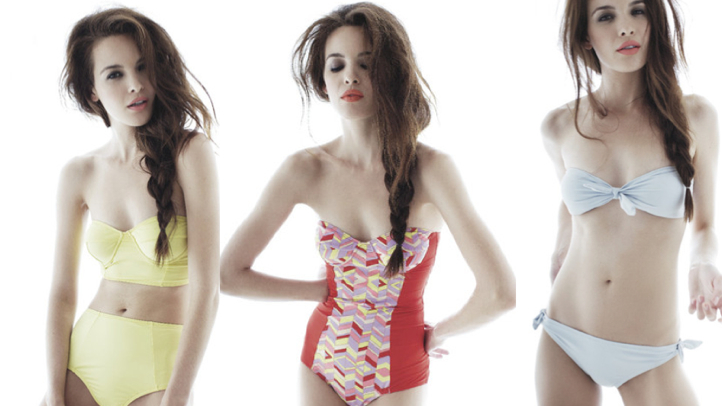 We fell head over heels for Zinke's playfully hip lingerie over the holidays, so we nearly leapt for joy when we stumbled across their new collection of bright, vintage-inspired swimwear. We caught up with head designer Jessie Zinke to hear about the challenges of lingerie versus swim design (turns out the super-stretchy fabric is actually easier to work with than silks and lace), and where she comes up with those sunny color palettes.

What motivated the decision to expand into swimwear?
We had gotten so much feedback from our buyers that they wanted to see a swim collection, because a lot of our silhouettes translate really easily into swimwear. We knew we wanted to try it out, and so far the reception has been wonderful.
What new design elements did you have to take into consideration for swim versus lingerie?
The fabrics really are so different, so in a way the process definitely felt new. I was working with a lot of fabric companies ... but honestly, though, it almost came more naturally to me than the lingerie. It was just so fun, so in a way it was sort of easier!

Swim is always about fit, fit fit. Was it challenging to get the fit exactly right?
It wasn't too tough because I had an amazing fit model that I used throughout the whole process, and she was just perfect. With swim, the process is a lot more forgiving because there's so much stretch in the fabric, whereas lingerie is way less forgiving and more specific to a given body type. Swim I found to be a lot more flexible.

Where did you look for inspiration for the swim designs?
A few places, actually. I was inspired a little bit by this '60s, Palm Springs look. There were a few vintage-inspired styles in the collection that really came from that era, and the colors, of course. I also wanted it to have a more natural, bohemian vibe too. So it really became a natural mix.

Color and pattern are always really important aspects of your lingerie. How did you settle on the color palette for the first swim collection?
You know, I just picked colors that I really loved, and loved seeing together. That's really how we came up with it -- things I wanted to wear, and my favorite colors, and then I designed the print myself.

I loved the dainty cover-up pieces that you included with swim. Do you have any plans to try ready-to-wear?
Actually, we have talked about that and it's something we want to do in the future. I don't have a specific timeline of when, but yeah, I do think we'll try ready-to-wear!