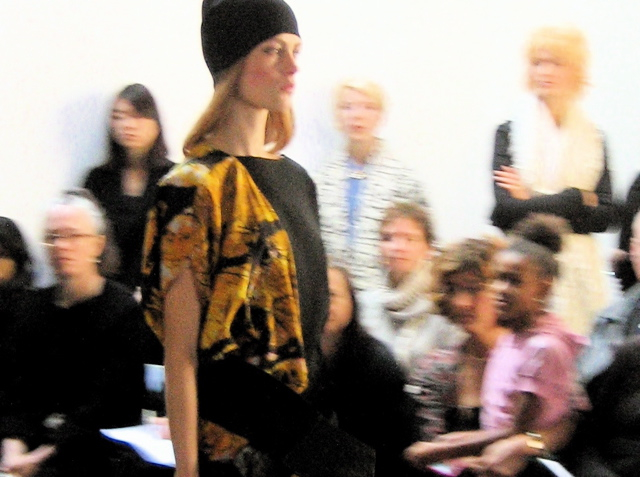 Unless you're at a couture show, tailoring and craftsmanship details aren't usually visible from eight feet away. We can assume, based on a given designer's reputation, that some collections are of a higher quality than others. But at Zero + Maria Cornejo, there's no mistaking the skill and artistry glistening off the runway.
This afternoon, Maria Cornejo gave a superb showing of classic silhouettes for men and women, modernized by asymmetrical cuts and pops of loud, mustard-yellow print (referred to in the program as "chaos"). "I was exploring the structure of perfectly crafted tailoring, but wanting to remake the rules and push things off balance," says Cornejo.
The collection, explained in the program as "a collision of cultures," was worldly and commanding but still fun, with sharp leather mens' trenches styled over bright evening gowns and--of all things--black beanies. Cornejo wasn't reinventing the wheel with Fall 2010--goodness knows leather pants have been around for a few centuries--but she demonstrated how a superior cut and creative use of color can transform the familliar into something wonderful. The closing look--a yellow coat in Chaos jacquard worn over stretch leather pants and a long vest--made our heart skip a few beats.