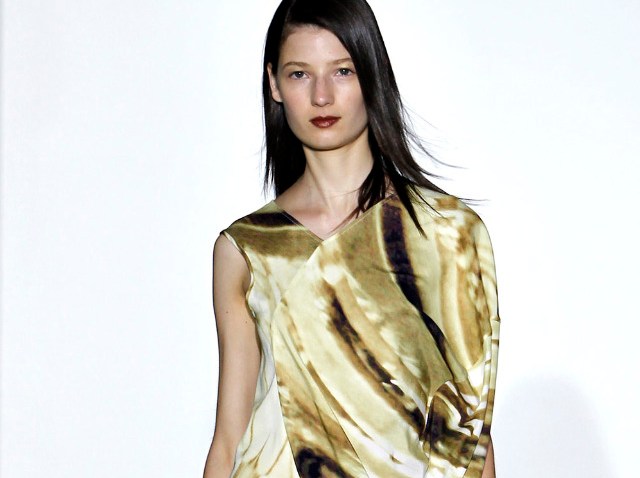 For Spring 2011, Maria Cornejo grappled with her own competing cultural identities in a collection that incorporated downtown chic with Asian refinement and British, cool-girl quirks. Cornejo, we were surprised to learn, first arrived in London as a political refugee from Chile, and she has since gone on to live in Tokyo, Paris, Milan and New York City. No surprise, then, that her collection was such a convincing synthesis of her many influences.
With Cornejo's signature tailored separates gluing the show together (a belted leather cardigan with softly pleated trousers was the winner for us) , the designer explored kimono-esque prints and sophisticated draping techniques in her wrap dresses, gowns, jumpsuits and perfectly-cut swimwear. Our favorite look paired a sleeveless mandarin-collar blazer and matching pleated shorts in a spectacular grey ombre tiger-stripe print.
Those who depend on Cornejo for her fuss-free eveningwear won't be disappointed: Her series of asymmetrical satin cocktail dresses in pale chartreuse were marvelously juxtaposed against the deep olive and blacks looks that followed. We look forward to seeing the completion of her new 2,000 square foot Angeleno boutique on Melrose Place--hopefully an indicator that the designer will be producing more of her impossible-to-find swimwear.