When, exactly, does Mr. Posen sleep? With capsule collections in the works for Saks Fifth Avenue and Target, we were already questioning the designer's insane workload when we caught wind of his Alice in Wonderland collection of jewelry with Pamela Love.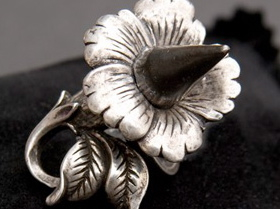 Just in time for Tim Burton's film adaptation of the childhood classic, Zac and Pam's appropriately gothic-looking collection features quirky morning glory earrings, long dangly necklaces and iris brooches. Each piece appeared on the runways of Zac's Spring 2010 collection and is evocative of Lewis Carroll's kooky novel without being too literal, making them fabulous holiday conversation starters. Plus, the stud-like pistons on each flower give a bit of edge to the otherwise extremely feminine collection.
Check out the complete collection at Opening Ceremony before it's too late--we can see these getting scooped up as gifts before you can say "designer diffusion."
Opening Ceremony is located at 35 Howard Street.