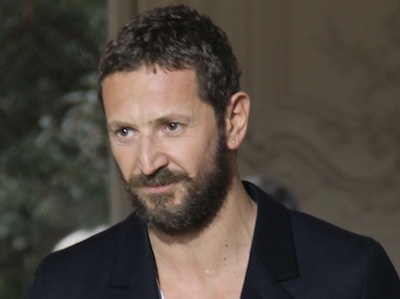 Despite the excitement surrounding London Fashion Week, fashion insiders have been abuzz over a scandalous rumor that started unfolding over Twitter earlier this week.
Kenzo PR posted the following blind items on its Twitter account, before subsequently taking them down:
Just heard BIG news about this being a certain designer at an established French house's last season and being replaced by someone major!!

CEO has just left and now the designer replaced by someone who has moved away from design the last couple of yrs but stayed in fashion.
Industry insiders traced the clues back to designer Stefano Pilati, whose tenure at Yves Saint Laurent has apparently been under close watch over the past year, and, in fact, YSL's CEO had recently left for Reed Krakoff. Some insiders even pointed to Dior Homme designer Hedi Slimane as a possible replacement.
According to WWD, however, parent company PPR chairman and CEO Francois-Henri Pinault firmly denies any truth to the rumors, and reaffirmed Pilati's role in bringing YSL back to profitability in 2010.
A Kenzo rep also told WWD he had no idea who posted the item, saying: "This is not at all the kind of information that we would have access to or would have any interest in spreading."
Twitter has become a ripe source within the fashion world for both insider gossip and misinterpreted rumor, making it a riveting source of drama in an industry that makes intense efforts to look unflawed and keep news releases under wraps until everything is perfectly in place. But it's also a playpen that seems rife with disinformation: Take, for example, the initial rumor disseminated during New York Fashion Week that Hilary Alexander was retiring: As it turns out, the much-beloved editor will cease posting full-time as of June, but will still remain a contributor and insisted herself over Twitter that the rumors of her retirement were "slightly premature."