Sure they look good in magazine editorials, but when it comes to leaving the apartment with a scarf wrapped around your ears, turban-style, expect to get a few puzzled looks.
Unsure how to approach the turban trend, we asked top NYC stylists and hat-savvy designers like Molly Yestadt to weigh in on the look for summer. Survey says: turbans are go (especially for those of us growing out winter bangs) -- just be sure you have the confidence and the style savvy to pull them off.
Kate Schelter, Fashion Consultant and Stylist
"I am a big fan of hats, especially in the summer, and the turban is a great topper. Turbans work especially well with shorter hair (bobs, or hair pulled back) as they accentuate the neck length and facial structure with a little hair poking out at the jaw line like a flapper. I love turbans in exotic prints for summer at the beach and jewel toned satins for the city. They bring shape and color to the face.
It's definitely not a look for the faint of heart... If you sport this look you would know unconditionally that it works well for you as it is necessary to have the nonchalant confidence to pull it off elegantly."
Alicia Yates, Wardrobe Stylist and Personal Shopper
"I love the off-kilter, bohemian quality a turban can have-- or how practical and chic it can be worn in a beachy setting with a vintage caftan. Tread carefully though, this is not the easiest trend to wear-- you want to find a balance of quirky and cool."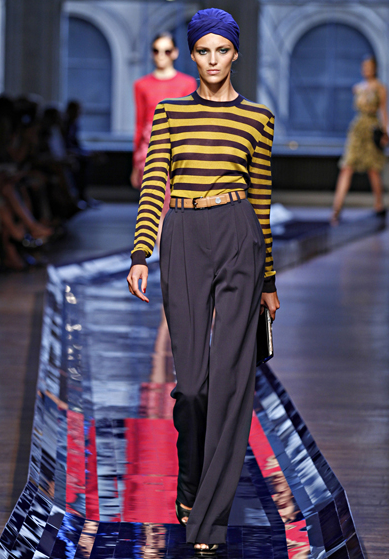 Natasha Devereux, Editorial Stylist
"I think turbans are amazing. They are the perfect answer to a bad hair day, or trying to grow out bangs."
Molly Yestadt, Yestadt Millinery
"Okay, you got me I do love a turban! I've been loving turbans for night. They're super chic (in a French accent), and light especially if you don't want to work a brim when your out.
Also, [my partner] Jane was stomping around Europe last month and vouches that it's the easiest thing to travel with. Toss in your bag and go. The thing that is fun is you get an instant look."