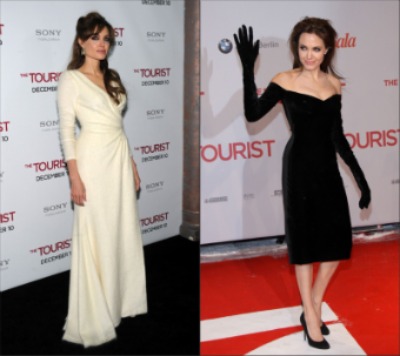 Like night and day, Angelina both stunned and perplexed us at two recent premiers for "The Tourist." Last week she appeared in New York wearing a cozy, long-sleeved sweater gown by Versace, a gorgeously glamorous, not to mention unexpected, answer to the chill of winter. The hit was shortly followed by a flop—albeit a daring one—when the actress sported Versace again in Berlin, however this time the long black sleeves of the dress extended all the way down to her fingertips, covering them as gloves.
That's right. She wore a glove dress, a gless, a glock...there's really no term for it.
We always knew Jolie still had a bit of a dark side to her, but this is one we're not particularly happy to see, especially after such a shining success just days earlier.