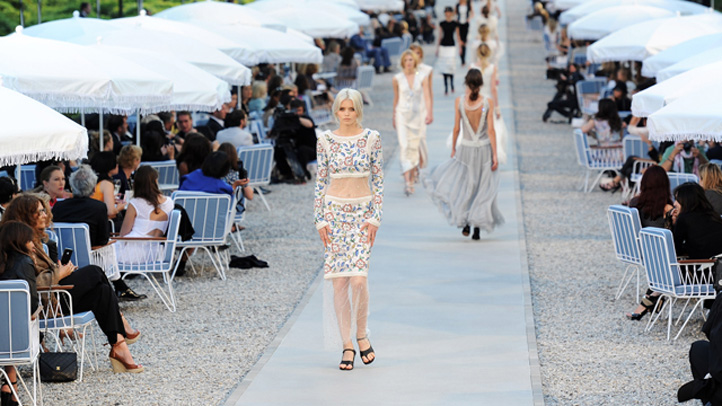 It's hard to believe that the resort 2012 collections, which, kicked off with the Chanel cruise show in Cap d'Antibes, France, this week are already underway. It was just eight weeks ago that the parade of fur, boots and overcoats were marching down the Paris runways, and now we're onto bathing suits and sandals, which will land in stores at the end of this year and the beginning of 2012. Add in the couture, men's and swim shows and all of the other cities hosting fashion weeks from Istanbul to Copenhagen and it truly is always fashion week somewhere in the world these days.
Editors and buyers are increasingly weary of the never-ending schedule, and many are concerned that all of this nonstop attention on fashion shows is ultimately much too confusing for consumers, to say nothing of the strain that it puts on up-and-coming designers and their bottom line, as they are forced to compete with major conglomerates.
Along with Chanel, Bottega Veneta and Fendi also showed resort this week. Further along in the calendar, there is Oscar de la Renta's show in his new showroom, a Donna Karan presentation, a key show from Salvatore Ferragamo in New York slated for next month, and Prabal Gurung's resort collection debut. And that's just the tip of the iceberg for this increasingly important season, beloved by retailers because it sits on the shelves the longest at full price of any collection, and is often considered the most wearable.
Donna Karan has famously spoken out about she refers to as the broken fashion calendar. She told a panel at Parsons last year, "There is too much information [available because of the web]. We have to learn the word restriction, and come back." Karan would like to see the shows return to trade-only events, rather than full on media spectacles. But as the luxury market recovers, and many brands want to flex their muscles (and budgets) publicly, that may be little more than a pipe dream this resort season.
Paper magazine Editorial Director Mickey Boardman says, "I must say that I think the schedule is nonstop and exhausting for everyone. I feel the most sorry for the designers who have to churn out collections constantly! Between the shows, presentations, re-sees etc. it seems like there's never a break. But compared to working at McDonald's in Hanover Park, Illinios -- where I come from -- having to go see the Oscar de la Renta resort show is not such a crisis."
Ken Downing, Senior Vice President and Fashion Director of Neiman Marcus suggests, "I mean, we as retailers would actually welcome the idea of the big message of the fashion shows happening closer to the selling time."
Other ideas that have been bandied about include formalizing the mid-season shows or limiting viewings of these mid-season collections to editors and retailers via studio appointments. Julie Gilhart, the former fashion director of Barneys says, "Whatever we can do to slow it down, I'm all for."
And while many in the industry seem to think change would be good, there is that rumor still flying around from the last resort season that Vogue Editor Anna Wintour asked fashion houses to stage increasingly high profile resort shows in New York City, including those based in Milan and Paris, in order to up the city's fashion profile. And, you know what they say -- what Anna wants, Anna gets.