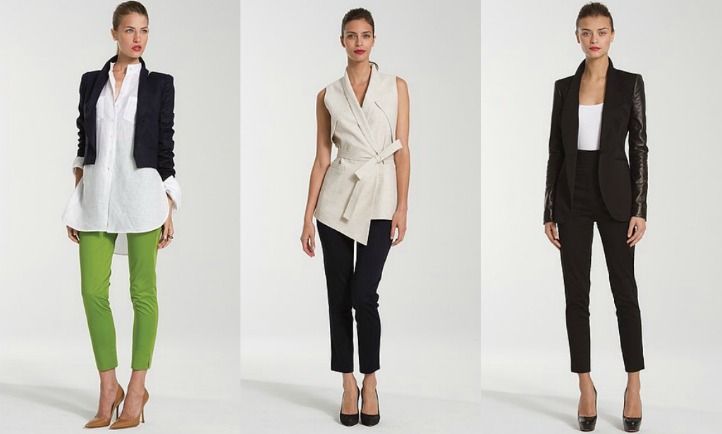 Following in the footsteps of a string of other designers, Wes Gordon has launched a capsule collection with a mass retailer -- in this case, Jones New York -- just in time for springtime shopping.
Gordon said he was initially approached by Jones New York with the idea following his Fall 2011 presentation (which took place in in February 2011). "It was a great surprise and it turned out to be an incredibly fun experience," Gordon told us. Just over a year later, Wes Gordon x Jones New York has debuted exclusively at 15 Bloomingdale's stores, Bloomingdales.com and on Jones New York's own website -- all with the aim of updating the modern working woman's work wardrobe.
Gordon said that his namesake collection is about "delicate embroideries and exquisite materials" with prices that match -- including a pair of wide-leg pants for $975 and a navy-and-bone-striped ball gown skirt for $1,900, both of which have started to trickle into stores. In contrast, Gordon said this capsule collection is about "tailoring and silhouettes, using fresh summer fabrics like linen and bright colored cottons." Prices are, of course, much more affordable. Lime sateen pants are $138, a blazer with leather sleeves is $398 and a blue military jacket is $248. "We have the opportunity to reach more women across the country [with this collection]," Gordon said.
The designer is just one of many who have launched capsule collections in recent years to jumpstart their businesses and gain exposure. Thakoon Panichgul has worked with Target, Doo-Ri Chung has collaborated with Macy's, and Pamela Love has joined forces with Topshop. Major labels from Lanvin and Stella McCartney to Versace have also benefited from the exposure that comes with designing for a mass retailer. But as the popularity of these collaborations has risen, their novelty factor with consumers has worn off, leading to rather mixed sales results. Still, for rising talents with limited resources and no advertising budgets, the perks of these collaborations are vast.
"As a start-up company, it's a great learning experience working with a large organization like Jones. Also, a collaboration like this provides a tremendous boost to our brand awareness," Gordon said. The capsule collection is currently sitting in the windows of Bloomindale's 59th Street Flagship -- certainly quite a coup. Gordon has also made a personal appearance at Bloomingdale's New York City flagship, and has an upcoming appearance at the store in Atlanta to promote the collection.
As for his favorite piece in the collection, Gordon said, "I'm always drawn to classic items and I think the high-waisted, A-line shorts come dangerously close to being the perfect short." Priced at $128, it's hard to argue.