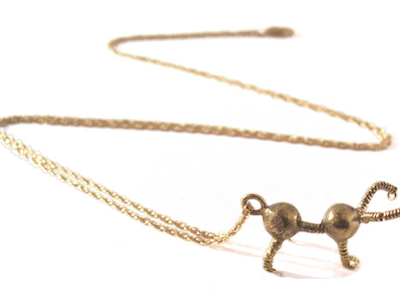 Brooklyn-based brothers Steven and William Ladd have brought the eclectic fruits of their eponymous design practice to the masses, creating winsome charm necklaces for Anthropologie.
The Steven & William Invisible Pet and Colony Necklaces, each $144, artfully elevate a gag prop and common bug, respectively, by casting them in gold and placing them at the end of long, gold chains. The Invisible Pet Necklace refers to those goofy dog leashes with no dog at the end—something everyone's seen, but never in so charming a setting as a delicate piece of jewelry. The Colony Necklace, on the other hand, is just an ant, simply presented to show off the little critter's subtly graphic appeal.
With equally astute eyes for beauty and tongues perpetually in cheek, Steven's and William's creations for Anthropologie characterize the harmony of their work perfectly, and yet also represent something totally different than a lot of the items in their own label, which, in addition to jewelry also include breathtaking chain lamps and statement furniture pieces.
With William having honed his masterful beading skills, the duo's signature twist bracelets and necklaces coil together piles of gemstones, crystals and metal beads in chunky knots and fantastic fringe.
Even their most simple charms for Anthropologie are unlike anything we've seen before, so we have a feeling we'll be seeing a lot more bugs, beads and all-around covetable lovelies from Steven & William.