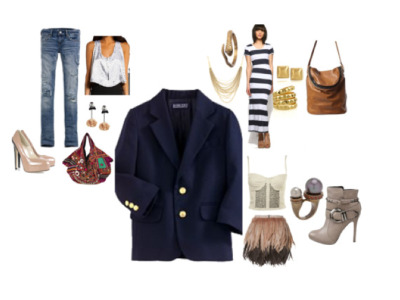 Maybe it's that back-to-school feeling, but every fall at least one preppy item that makes it into wardrobe's regular rotation. Right now we're loving the schoolboy blazer and the Land's End Uniform Boy's Hopsack actually is one (and extra credit: it's only $50).
It's an American classic—the navy blue, boxy coat emblazoned with an embroidered seal and gold buttons in its most pure form—so there's no reason such sartorial goodness need be relegated to grade schoolers. The Land's End model (as well as a similar styles from Ralph Lauren and Brooks Brothers) comes in sizes large enough for many women, while a slew of brands like Steven Alan, Elizabeth and James and J. Crew have created grown-up, tailored versions for a more feminine feel.
Lest you catch yourself feeling like an overgrown schoolgirl, it's best to skip the plaid and penny loafers when rocking the schoolboy blazer. The versatile topper is best styled into a more unlikely look. Integrated with some chic rocker elements (think skinny jeans, pumps, a swingy tank and a bright carryall), the jacket offers a smart shot of boyish polish, while an out-on-the-town, ultra-femme feather skirt and corset top make an even more flirtatious statement with the blazer on top. A schoolboy can remain classic too, when paired with the season's long hemline silhouette in black-and-white stripes, and piles of gold jewelry.
The possibilities are endless, so start with the school-issue basic and break all the rules.