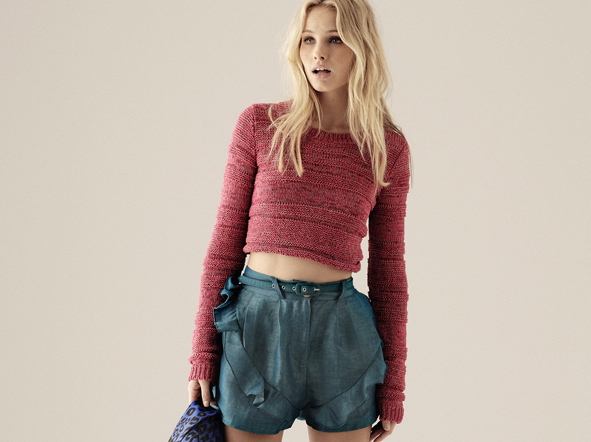 There's no denying the recent influx of spectacular Aussie and Kiwi fashion. From established brands like Sass & Bide to younger labels like Claire Barker, it seems that some of the most talented up-and-comers in the biz are getting their start "down under."
Which is why it's no surprise that Ruby, the brainchild of New Zealand designer Deanna Didovich, feels so perfectly of-the-moment. Self-described as "beautiful collisions of prints and colors," Ruby's soft, feminine look incorporates quirky textile combinations (sequins and denim, chunky knits and leopard print) to keep it playful and unexpected. The spring/summer collection, named "Bedrock," features coral giraffe-print minis, cream knit dresses, sequin t-shirts and high-waist pleated denim in pale blue. We especially love the polka dot tank with a drawstring waist and a pair of ruffled silk shorts in aqua.
The overall Ruby aesthetic may skew a bit young, but there are sophisticated pieces--like a black sequin cocktail dress with a triangle cut-out at the waist, or a cuffed pair of chinos in mint green--that have ageless appeal.
See the complete spring/summer collection and shop online at www.rubynz.com.