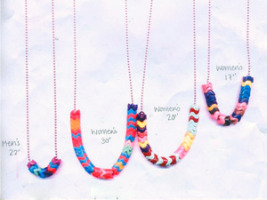 Philip Crangi has long been heralded for his unique, artistic approach to jewelry, so it's no surprise that his latest effort is a perfect amalgam of a number of trends dominating accessories right now -- from vintage and tribal influences to the whole crafty, friendship-bracelet-inspired movement.
The new line of necklaces incorporates colorful beads from Africa strung on delicate chains that look just pitch-perfect for summer, and would also make excellent transitions into fall: Picture them paired with a white dress and a tan now, for example, then with a slouchy tee, blazer, and jeans come fall. The colorful charms themselves are just perfect: As Crangi told Refinery29, "Each bead is like a little gem."
The best part about the whole deal? At $55-$75 a pop, they're also seriously affordable. That said, they're likely to sell out quickly, so pick up your own at The Crangi Family Project at 9 Ninth Avenue.