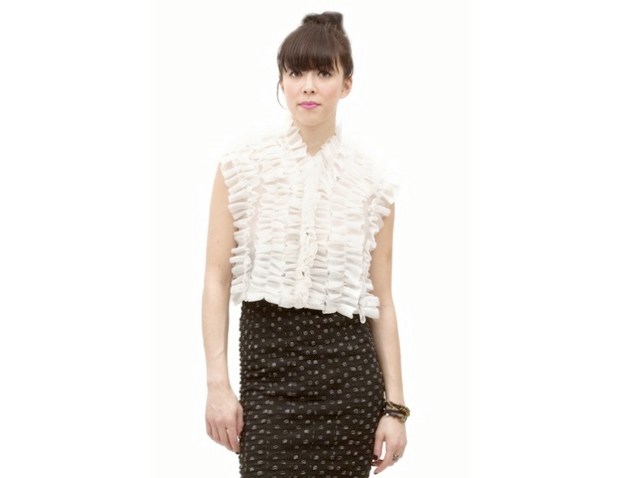 DJ-turned-designer Mandy Coon's Summer 2010 collection hits all the marks: soft, sheer layering with punky accents, unique prints, bold color and cropped ... well, just about cropped everything.
Like the designer for whom the clothes are named, Coon's clothes are creative and adventurous, designed to grab attention without coming off as trying too hard. The former Camilla Staerk apprentice isn't afraid to experiment with texture (a ruffled vest in cream makes us exhausted just thinking about the labor) or with conventionally "un-sexy" shapes, like a pair of droopy-drawer pants in grey.
Each piece is instilled with the designer's own hip downtown sensibility, combining effortless shapes (asymmetrical chiffon cocktail dresses) with on-trend accents (a hooded parka in sheer white). Her summer palette of black, grey, and cream highlighted by royal blue and earthy browns gives the collection a fresh, urban vibe. Now entering her second season, we can't wait to see what this promising up-and-comer has up her ruffled silk sleeves.
Shop Mandy Coon's summer collection at Opening Ceremony, Assembly, and Debut NY.