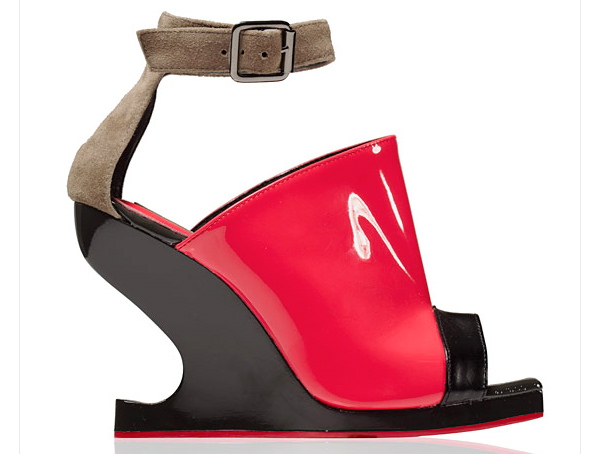 Ever find the perfect pair of "concept" kicks on the runway only to be heartbroken when they aren't produced for retail? For Taiwan-based designers Michelle Wu and YoYo Pan, who together form "Heavy Machine" footwear, design is never something to be sacrificed to mass market tastes. Their futuristic aesthetic, experimental textures and sculptural details make the shoes more like MoMA installations and less like your wear-em-everyday black booties.
And yet there are still a few practical if vaguely gadgety-looking options in the Spring 2011 collection. A pair of pale beige ankle boots with an architectural heel is cobalt blue feels high-design but also versatile.
Of course, the really fun stuff doesn't look practical at all: our favorite piece, the "Nostalgia Chic" wedges in hot pink patent leather, feature a wavy (and perhaps precarious) indentation at the heel and a contrasting suede ankle strap in beige. Price points are dangerously reasonable, ranging between $260-$360, which makes us wonder why so many runway shoes (that aren't half as cool) run upwards of $1K.
Check out the collection at Helianthus at 196 Spring Street.