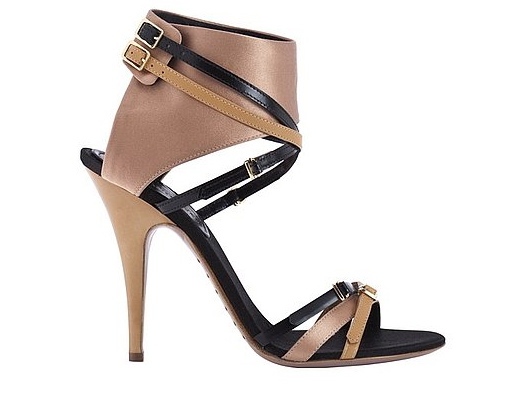 Collabo-maestro Giuseppe Zanotti has worked with the likes of Proenza Schouler, Balmain and Thakoon on developing super luxe shoes to suit the labels' ready-to-wear collections. Now, Zanotti has joined forces with Rodolfo Paglialunga, designer for legendary French house, Vionnet, on a collection of sleek, almost minimalist stilettos and flats that are worthy of the brand's elegant heritage. And, somehow, he's resisted the urge to put crystals on everything.
The new collection, featuring 25 original styles (no Vionnet reproductions), puts the emphasis on fabric, fit and proportion. You won't find a single platform, clog, or reinvented trend piece: Instead, the shoes are classic and delicate with a few modern design twists, like laser-cut leather, or multiple straps in contrasting colors. The predominant materials are leather and silk, which would be a cumbersome mix is hands less skilled than Zanotti's, but he brings them together beautifully in everything from lace-up stilettos to strappy sandals.
Prices range from $555 to $740, and will become available at Saks and other Vionnet retailers in late Fall.