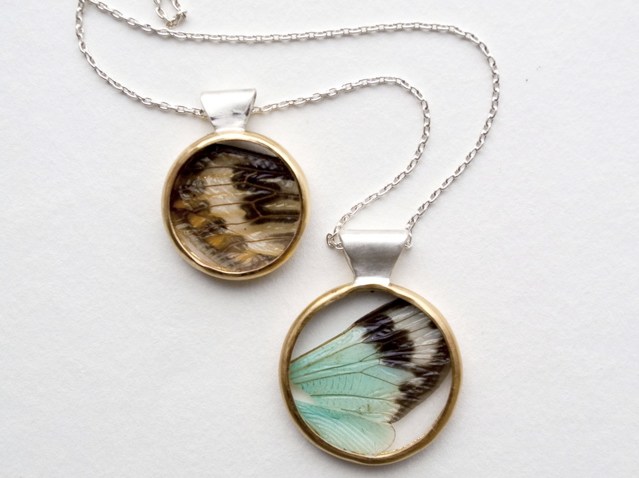 Summer just wouldn't be summer without watermelon, barbecue, and the steady hum of a few thousand cicadas, which is probably why we're so smitten with Carrie Bilbo's seasonally-appropriate cicada wing necklaces. Like a bit of eternal summer for your neckline, Bilbo's jewelry showcases natural elements in elegant handmade brass and sterling silver settings.
Though Bilbo's complete collection is inspired by natural forms, there's something simultaneously alluring and spooky about her aesthetic. Her sense of geometry and color can come across a tad eerie and occasionally even magical, like a bright sterling silver hairpin made to look like a twisted tree branch, or a dusty gold necklace featuring a pair of curling moth wings.
But the Bilbo piece we're absolutely bewitched by is a simple glass pendant with a brilliant blue cicada wing pressed in-between. We think it would look stunning with one of the season's colorful printed dresses, or layered with a few other mixed-chain charm necklaces Also noteworthy are Bilbo's gorgeous cicada stack rings, which are made from three separate rings bonded together, each with different colors of glittering cicada wings inside.
Shop Carrie Bilbo's online boutique at www.etsy.com/shop/carriebilbo.