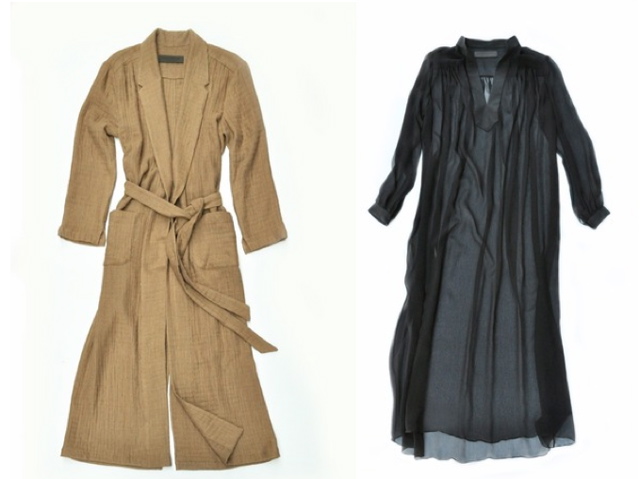 Soho-based designer Wendy Nichol is best known for her distinctive bucket bags and statement-making jewelry pieces. But starting this season, fans can outfit themselves entirely in Nichol's creations with her first-ever collection of ready-to-wear. Upon receiving a sewing machine for Mother's Day, Nichol decided to whip up a few aprons to keep her employees safe from leather stains. Upon the aprons' completion, she thought the pieces deserved to be seen outside the studio. The rest, as they say, is history.
How long have you been wanting to do ready-to-wear?
Not long, really. I was sculpting some things with fabric and the girls [in the store], because I wanted to make them aprons to wear at the studio. But eventually I realized they were so beautiful, I wanted to wear one all the time, with my clothing. So from there I started working on a couple other pieces, playing around with silk charmeuse and taffeta.
Was there a certain mood, or vibe you wanted to capture with the first collection?
It came about more out of a necessity. There were things that I was trying to find in the retail market, and occasionally I would find them here or there, but never the right cut, or I didn't like the quality of the fabric. I love silk charmeuse and I love linens and it was spring at the time, so I decided: "What a great opportunity to use a fabric like silk and just make this myself." I'm always looking for a great pair of pants that are a little bit long, and just come over my heels a little bit, and are relaxed. Sometimes trousers are just too business-like, but in the silk charmeuse, they're amazing.
How are the pieces constructed?
Everything is made by hand, partly in midtown and partly in Soho.
Is there a particular piece you're wearing all the time?
The long silk duster is something I've been dreaming about for a while now, so that's definitely a favorite. Every single piece I've made, though, is something I was just dying to have. I didn't make anything I didn't love. If something was just "okay," then I got rid of it. The entire collection is only 20 pieces -- I cut 10 out that I wasn't in love with. I said, "Let's just have the perfect shirt, and the perfect little jacket." The little boy boxer shorts ... You can sleep in them, and wake up, and put on the camisole and go get a coffee. I'm really into rolling-out-of-bed wear.
Will some of the styles carry over from season to season?
I always like to buy timeless things and seasonless things, so that will be a strong direction for us. Of course, there will always be fabrics that are more relevant for us, depending on the time and the season, but if you're going to spend $600 on a piece of clothing, or even $250 for that matter, it's a real commitment, and you want to be able to wear it all the time for the next five years. At least, that's the way I always look at clothing.