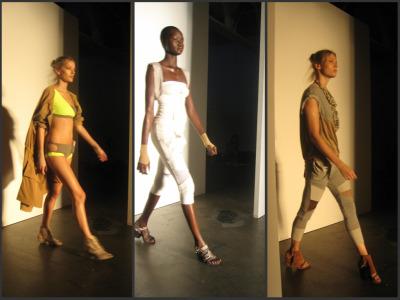 Grounded in neutral hues, VPL's spring 2011 collection plays sheer color blocking with slim-fit jersey knits and major statement fringe.
There's so much neutrality floating down the runways for spring, it seems, that our eyes are beginning to distinguish a certain spectrum. There's a creamy blush at one end, and at the other, the saturated copper, tan and putty. VPL falls in the latter category.
Layered dresses and pieced-together jumpsuits were color-blocked in their own way--mostly with sheer panels and peeps of skin, along with both colorless and acidic-hued knits and organza.
Designer Victoria Bartlett has based her label on the exposure of intimates as the basis for one's look. Spring 2011 carries on the tradition by pairing the minimalist incantations of the theme with bold accessories, including a plunging-V hair collar -- the Shoplifter and Edda Body Hair Piece for VPL -- that elicited cheers throughout the crowd. Necklaces alternated between silky fringe (actually a "steel string throw") and Brian Crumley's blown glass-and-rubber clear, oblong bubble collars.
Heavy (and totally hot) shoes provided the perfect weight for the airy apparel soaring above them. Think cone heels with suede "apron" overlays and tourniquette and corset lace-up sandals.