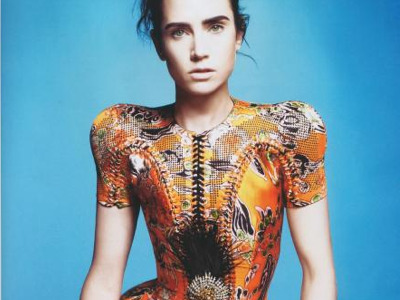 Spain footed its way through four years, one month and 116 minutes to win the 2010 World Cup yesterday—the country's first championship—but the country has long been a star of the fashion world.
The revolutionary couturier Cristóbal Balenciaga lives on as a Spanish national treasure. Though the legendary designer's fashion house is often associated with its dominating presence in Paris, Balenciaga himself was actually a Spaniard (he migrated over the border from his native San Sebastian during the Spanish Civil War in the 1930s). The House of Balenciaga has employed the likes of Oscar de la Renta, Emmanuel Ungaro and Hubert de Givenchy, and even garnered Christian Dior's praise as "the master of us all." Anyone who loves fashion knows the sweeping influence of Balenciaga's masterpieces, but even those less familiar with the designer himself will likely recognize his legendary silhouettes, from the cocoon coat to the balloon skirt, often reimagined today by the house's current creative director, Nicolas Ghesquière.
Spain is not only the birthplace of one of fashion's founding fathers, but also a source of the contemporary concept of fast fashion. Trend-driven Spanish chains Zara and Mango were among the first to democratize dressing and bring designs like Balenciaga's ancestral, high-fashion aesthetics to the masses. Along with H&M, Topshop and the like, these European imports rapidly transformed the boundaries of American shopping, and what consumers have come to expect from lower-priced retail franchises.
While fashion week events spring up in new locales around the world, Madrid Fashion Week has been going strong since its 1963 inception. So, while we celebrate Spain's World Cup victory (preferably, with tapas and rioja), we've known for a while the country was onto something good.