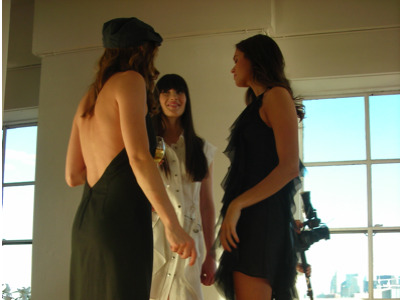 On Monday, the Austrian Trade Commission brought together a showcase of 11 of the country's best designers for Vibrant Austria, to raise their profile in the US market.
The designers span apparel, accessories and jewelry, including And_I, Anna Aichinger, Drozdzik, Edith A'Gay, Florian Jewelry, MILCH ecofashion, Rosa Mosa, Schella Kann, Ute Ploier and Wilfred Mayer Press and sales reps are invited to view the collections through tomorrow.
The talent has indeed been well-roudned, from the jewelry maker And_I's training in sculpture to Drozdzik's fusion of Japanese and Belgian sensibilities infused with an inherent Austrian spirit and the recycled masterpieces created by MILCH ecofashion. What's more, it turns out many of them come to New York with experience under the likes of brands like Viktor + Rolf, Marc Jacobs, Helmut Lang and Marc Bohan. Memorize some of these names: They'll likely be popping up in boutiques near you come fall.