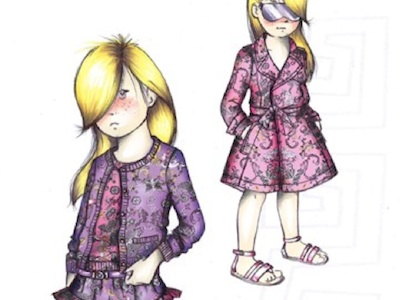 Italian label Versace is the latest high-end brand to turn its attention to outfitting children with the launch of Young Versace, a collection to outfit kids from birth to 12 years, WWD reports. The line will make its debut at the Pitti Imagine Bimbo trade show in June.
The line will incorporate the house's iconic Medusa logo in "ironic prints" rendered on natural fabrics. Versace CEO Gian Giacomo Ferraris described the look to WWD as something not necessarily for the mild-mannered kid:
"This is a high-end, glamorous and colorful collection in line with the brand's essence, with a touch of rock 'n' roll."
Young Versace isn't actually the label's first attempt at wares for young folk: Versace's previous children's label, Versace Young, was actually discontinued in 2004. In addition, Versace's announcment comes on the heels of the announcement that Lanvin will also be producing a "superluxury" children's collection. (In an interesting twist, founder Jeanne Lanvin actually started the label by making clothes for kids.) If this trend continues, the children's market may soon rival bridal in expansion, giving playground fashion a serious uptick in sensibility, not to mention budget.