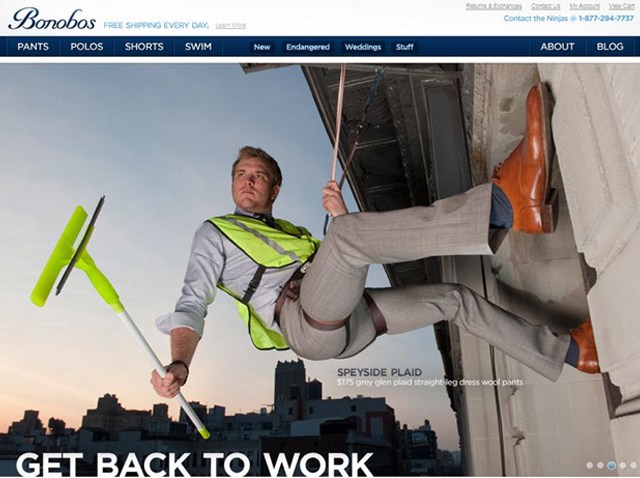 As the economy recovers from a recession that besieged many fashion and retail companies, venture capitalists have started to return to fashion, and are on the hunt for the next big thing. This is good news for young designer start-ups, and not surprisingly, brands with a strong E-tail bent are the ones making waves and raising capital.
Men's apparel brand Bonobos (which sells exclusively online) has been successful at securing venture capital funding because of its e-commerce focus. At the close of last year Bonobos picked up $18.5 million in funding from Lightspeed Venture Partners and Accel Partners. CEO Andy Dunn says, "The web has made retail easier. Finding customers, pricing the cost of goods fairly, using social media to amplify product and service stories, aggregating service demand to a centralized competent staff and capturing data to drive customer experience and overall lifetime value."
Dunn warns fashion brands that think they can grow doing the same old same old when it comes to strategy. "The trick is you need the Web to be your primary channel of distribution, which means a lot of existing brands are at a disadvantage -- and they need to pivot quickly," says Dunn.
Other fashion upstarts benefitting for the resurgence of capital: online trunk show site Moda Operandi, which raised $1.15 million from New Atlantic Ventures for its February launch; the unstoppable Etsy, which raised $20 million last year from Index Ventures (bringing its valuation to nearly $400 million); and Rent the Runway, which has secured $17 million in venture capital funding so far.
The need to connect fashion companies to venture capitalists led Karen Griffith Gryga and David Freschman to launch FashInvest in 2009. At the end of the 2010 the duo held their first capital conference drawing over 400 people, which allowed 15 companies to make their pitch to potential backers—yet another sign that investors are out there with an eye towards fashion. Gryga says, "25 years ago, technology was in a similar state to that which fashion is in now. Technology entrepreneurs would bring something to the market looking for a market, not the other way around."
More good news for fashion brands: M&A activity has been heating up in 2011 (a trend that is sure to continue thoughout the year). LVMH is on a buying spree, and so far this year has picked up Bulgari and trunk maker Moynat. Nordstrom scooped up HauteLook for a cool $270 million in February. And Dubai's Paris Group bought Gianfranco Ferrè early this year.