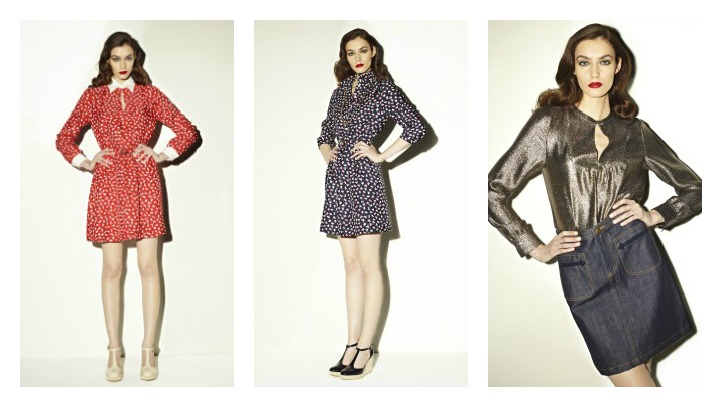 Former Azzaro Creative Director Vanessa Seward has collaborated with French label A.P.C. on a capsule collection for fall. The 15-piece collection includes dresses and a variety of separates. Prices range from $515 for a printed silk shirt to $810 for a lamé tunic. Seward became known during her time at Azzaro for her distinctive take on 1970s glamour, and it's a cool factor she has brought to this collaboration.
"I started out by choosing couture fabrics which could relate to my style," Seward said, "but it was important to keep the collection simple and well cut in the spirit of A.P.C."
Seward, along with A.P.C. founder Jean Touitou, sourced fabrics from the archives of Swiss textile company Soieries Abraham, one of the main fabric suppliers to designers Cristóbal Balenciaga and Yves Saint Laurent. Seward had worked within the archives during her time at Yves Saint Laurent, when she worked under Tom Ford.
"The gold lamé chiffon is a new fabric as before lamés would tend to be thicker and scratch," Seward said of one of the fabrics she chose for the collaboration. "As for the prints, they have such beautiful archives it was difficult to choose. We decided on a navy print and created a red one with them. The brocade came from a vintage 1960s [Jean] Patou dress I had, and when I showed it to them we realized it came from their archives."
The designer hopes women will mix and match these pieces with what they already own.
"I attended the cocktail launch in Paris and loved seeing how each client would personalize the pieces—for example, wear the lamé shirt with her own grey faded jeans and a vintage Chanel dark brown tweed jacket," she said.
Working with A.P.C.'s Jean Touitou proved to be a learning experience for Seward, which isn't surprising given that even Kanye West has sought out Touitou's fashion advice. Seward says, "I was amazed at Jean's knowledge in every stage...from the fabrics…to the details of fit, he has very high standards in regard to production. I also admired his sharp editing of the collection."
A.P.C. & Vanessa Seward is in A.P.C. stores now and online at APC.fr.