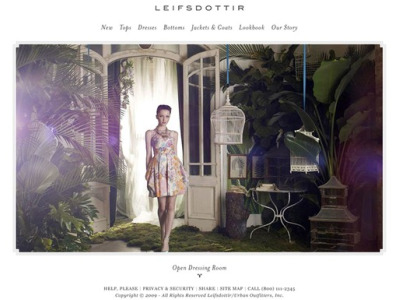 Building on the success of brands like Urban Outfitters, Anthropologie, and the recently-launched Leifsdottir, Urban has announced it plans to make a move into the wedding market.
According to WWD, the brand has posted some spectacular profits of late (which is a pretty big deal considering the economic climate certainly isn't ideal) -- enough that Urban already felt confident to expand the latest jewel in its crown, Leifsdottir, into a stand-alone e-commerce site and, we hear, a stand-alone brick-and-mortar store in Manhattan in 2011 .
Most interestingly, however, Urban is of the opinion that the bridal market is the next logical extension for its arsenal, and is planning to launch a wedding-focused line -- kicking off with a Web site, followed by stores.
The label will offer upscale, "heirloom" wedding gowns that will cost somewhere between $1,000 to $5,000, and will be paired with a one-stop-shop approach to shopping -- supplying shoes, jewelry, invitations, and even a bridal registry. Our bet: This will probably skew more towards the Anthropologie set than the hipster youngin's shopping at Urban Outfitters.
The whole plan seems to position the new brand in direct competition with mega-brands like J. Crew, who have recently also succeeded in creating a big business around one-stop bridal shopping, as well as Net-a-Porter's recently-launched bridal boutique.