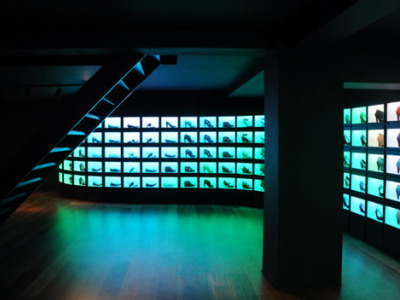 United Nude is christening its new flagship on Bowery with a seriously celeb-heavy soiree tonight.
The invite list includes the likes of Kirsten Dunst, Susan Sarandon, Kim Kardashian and Kim Cattrall for the first look at the 1,800-square-foot space. Marked by uncommon design that includes a dim ambience to offset the Wall of Light, as well as a Lamborghini sculpture flanking the entrance.
Owner Rem Koolhaas, the second cousin of the famed architect with the same name, talked to WWD to express his confidence in the new location on the up-and-coming Bowery (or Bowery 2.0, really), so much so that should sales suffer, the marketing value was worth it.
United Nude opens to the public tomorrow at 25 Bond Street.