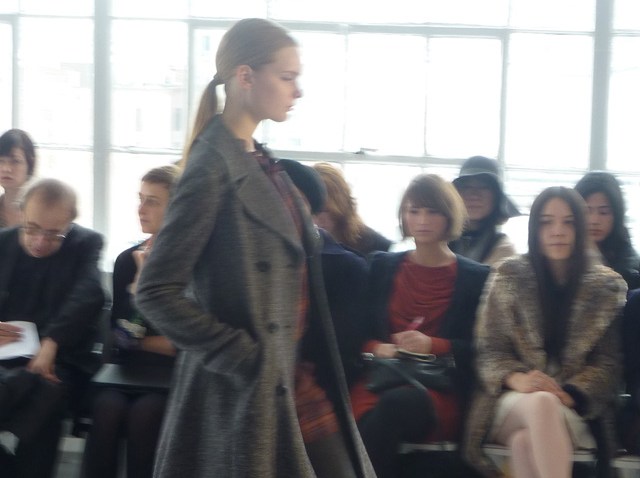 United Bamboo and the label's designers Miho Aoki and Thuy Pham clearly have a flock of fashion fans. A look around the front row of their fall 2011 show atop Studio 450, overlooking the Hudson River, and you could count at least a dozen people wearing the label's dresses and jackets. Sean Lennon and Waris Ahluwalia added to the front row cool factor.
The show kicked off with a series of killer shearling coats -- oversized and boyish. Shearling is shaping up to be a major trend for fall and was also used as paneling to spruce up a classic peacoat. There was also a long gray trenchcoat in nubby knit wool, a car coat in fuzzy plaid mohair and a short crepe jacket with lace up corset detailing up the back. United Bamboo seems to be telling us something: If you buy nothing else next fall, make it a statement coat.
Looks like the brown wool shirt jacket and wool trousers paired with black flat thigh boots had a distinct equestrian edge. There was also a series of oversized boyfriend knit cardigans that had the distinct 'I raided my boyfriends closet' feel to them.
All in all it was a decidedly grown up collection from a brand known for making a yearly cat calendar.