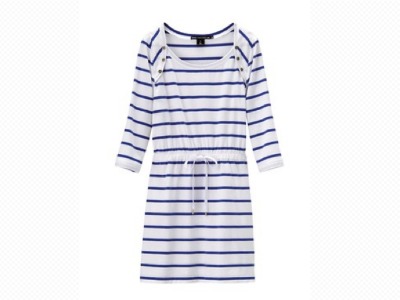 Uniqlo gets set to launch its latest series of designer collaborations under its Designers Invitation Project umbrella for the spring season, kicking off with Costello Tagliapietra on April 21, and followed by Charlotte Ronson on May 5 and Vena Cava on May 12. All of the limited-edition collections will be available through May 21, and will retail for a mere $29.99.
In addition to this trio, the Project will feature six other designers: Zechia, Tiny Dinosaur, Suzuki Takayuki, Theatre Products, Nine, and Double Standard Clothing.
For Costello Tagliapietra, this marks their sophomore collection for Uniqlo, having debuted a successful line of work-to-play jersey dresses just about a year ago. For their first run, the duo didn't scrimp on their typical precision in cut and draping for the mass market, so we're anticipating another series of steals from this season's offerings.
Charlotte Ronson's line is anchored in nautical stripes and the designer's signature sweet city-bohemian florals. The jersey-spun styles include casual tank, henley and tunic dresses, and a sailboat halter top, Style.com reports. The designer told the site:
"[There are] lots of coastal countryside influences and nautical elements...They're relaxed, easy to wear, sort of fun and flirty."
Last up, for just nine short days, will be Vena Cava's debut for Uniqlo—they've cut their teeth on diffusion lines with their own Viva Vena, as well as collaborations with the Gap and Bloomingdale's Aqua line.