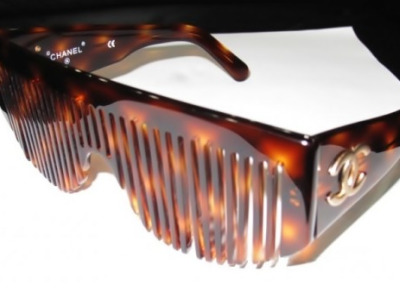 It wouldn't be the first time that Lady Gaga has set off a massive vintage sunglasses trend (those famous Versace stunners are one example), but the vintage Chanel comb frames she wore in her "Telephone" video have set more than a few insiders on a hunt for the quirky frames.
Reminiscent of those picture-day grooming tools, the comb frames are the kind of quirky luxury item that sets fashion folks' desires ablaze. Vintage Frames insisted they'd never even seen a pair up close, but they were quick to add, "they obviously do exist." Then, when a picture of the shades appeared close up on a personal Tumblr (melodysblog), High Snobette was quick to pick it up, and the glasses spread like wildfire to Gloss, Racked, and more.
If it were another time, and another designer, we'd immediately call foul on this ridiculous pair of sunglasses (can they be called sunglasses?) with a comb across the lenses, but after a kayak, a sword and some questionable Orient Express-esque accessories, Chanel has become the kind of label that can clearly create all manner of "what the-" accessories that still manage to become cult must-haves. Alas, it seems like Gaga might be the only one with a pair for the time being (she sported the samde shades at an appearance in February), but we'd imagine any vintage store that manages to stock these can set a pretty price for them.