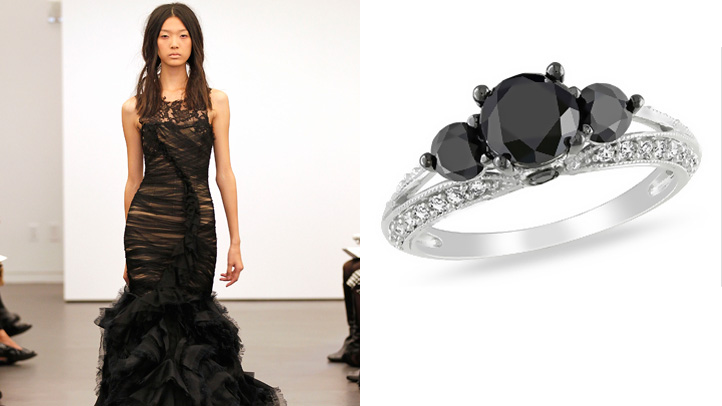 Maybe it's wedding fatigue (paging Kim Kardashian), or the urge to add an edge to a traditional wardrobe item, but black wedding dresses and black diamonds are creating a bit of buzz lately.
First, Vera Wang -- arguably the most iconic of all wedding dress designers, and the maker of three (count them, three!) dresses for Kim Kardashian herself -- sent a slew of models down the runway for her Fall 2012 bridal collection. Wang told The New York Times: "I found black to be fresh and tongue-in-cheek ... With all the big weddings that happened this year, it was fun to step out of the box."
Now, WWD reports that black diamonds are enjoying a rise in popularity. A wide range of designers are apparently offering black diamonds alone or combined with other precious stones, and Luxury Brand Consulting chief executive officer Janice Winter told WWD that designers are now embracing the dark stones because "it's a way for them to get a little more interesting, yet still remain true to the fine component of their brand DNA."
Indeed, a few shopping searches heralded a plethora of options, from stackable black diamond rings to a gold bracelet with black diamond embellishments. Granted, the diamonds are appearing on jewelry outside of wedding accessories, but one could also argue that a bit of black diamond fervor around weddings really started, after all, with the massive black diamond ring that Mr. Big gives Carrie at the end of "Sex and the City 2".