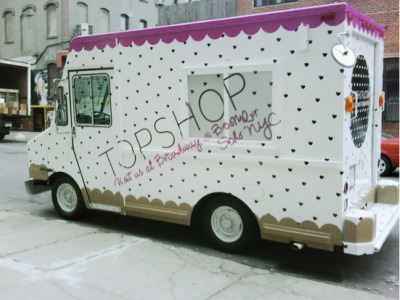 The Brit fast-fashion emporium is hitting the roads of NYC for its four-day summer bus tour June 23-26, kicking off in Union Square.
Each day, the Topshop tour focuses on a different element of the store, from makeup to summer refreshments. Day One centers on the new Topshop cosmetics line, while Day Two goes to Washington Square Park to dispatch personal shoppers and host a contest to win a $250 shopping spree. The bus then heads over the Williamsburg bridge for an arts-and-crafts session at McCarren Park Pool, before the final day's faux beach party with sand and frozen lemonade outside the store in Soho.
No word yet on whether the bus will have its own Mister Softee-inspired theme song, but we're hopeful.