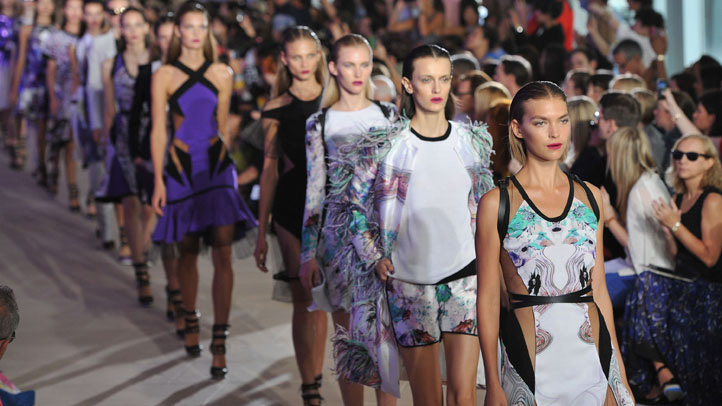 KCD, one of the industry's major publicity players, has announced its plans to debut a new tool to help brands broadcast fashion shows exclusively online. The new platform, however, is nothing like the livestream shows we've seen in the past.
The new platform, called Digital Fashion Shows, is really a turn-key solution for brands and designers who want to create an experience for press and clients that's as close to a runway show as possible, without actually having to pay the hefty costs of staging a runway show or having to find wiggle room in an increasingly packed international fashion calendar. The new initiative is specifically designed to bear all the hallmarks of traditional fashion shows: Each runway show will be invitation-only and will occur at a specific date and time. Anyone with an invitation will simply log on to digitalfashionshows.com at the appropriate time, and will then be treated to what a release describes as a "front row seat" to the show.
The first designer to be take part in the new platform will be Prabal Gurung, who will debut his new collection for ICB on digitalfashionshows.com on February 15, the second-to-last day of New York Fashion Week. Gurung been quick to embrace digital in other areas, from social media efforts to special online videos for his pre-fall and resort collections, and he told WWD that "it didn't make sense to add one more show to the calendar."
As with all of the shows on the new platform, the actual runway show will be pre-taped (with no audience present), and then broadcast online after it's been edited. Thus, the new platform quite different from the livestream shows that have been gaining in popularity, where labels have made their shows available to the masses online at the same moment that the invited few are viewing the collection in person.
While the move will likely be an overall boon to smaller labels unable to show at Fashion Week, as well as larger labels looking to expand their footprint, here's our take:
The Good Points:
Anyone's who's actually attended a fashion show knows that it's often more stressful than enthralling: One often waits up to an hour between standing on line and being seated, and then can sometimes be impeded by someone in the front row with a large hat or massive camera -- and that's assuming one managed to get from Lincoln Center to Milk Studios, say, in time to make the start of the show. In addition, the amount of press covering any given show has grown dramatically in recent years with the rise of digital press, so for the big New York shows like Alexander Wang or Marc Jacobs (which often feature stadium-style seating), it's unlikely that you'll catch all the details.
In this regard, Digital Fashion Shows is a boon: Each show will offer anyone with an invitation an up-close look at each ensemble, with added perks like run-of-show information displayed alongside each look as it comes down the runway, and the ability to select "favorites." Detail shots and extended show notes will also be available, which -- for digital editors and bloggers especially -- is just plain fabulous.
Considering that KCD is a heavyweight in the world of fashion publicity -- boasting clients for Fashion Week like Jason Wu and Alexander McQueen -- the firm is well-positioned to know what designers and brands are looking for (read: will actually use). The firm is looking to create an experience that feels as close to a runway show as possible, most especially in mirroring its exclusivity, which has heretofore proved a real pickle for some designers who aren't interested in the kind of public exposure that comes with livestreaming a runway show for the general public.
The Drawbacks:
While the new platform is clearly focused on finding new ways to give designers the ability to host a show amid an increasingly crowded fashion calendar, the fact that the shows remain invitation-only and occurring only at a designated time doesn't help navigate the morass that is the current fashion week calendar. For example, Gurung's ICB show may be easily available via Web for anyone with an invitation, but that doesn't mean that it doesn't have a time slot: 11:30 a.m. on February 15th, putting it in conflict with Nanette Lepore and Ports 1961, for example, which are hosting physical previews at Lincoln Center. (And that's just for starters.) Editors who will otherwise be shuttling around to shows will need to find to watch the show on their laptops, tablets, or mobile phones. (While it's lovely that the service is available via mobile phone, I'm sure Gurung isn't exactly hoping that people are trying to catch glimpses of the show while running to their next appointments.) Best case scenario: Some of the much-smaller shows opt out of Fashion Week and show via digitalfashionshows.com, though realistically, many smaller brands rely on the foot traffic of Fashion Week to boost their visibility.
In reality, the platform is most useful for designers showing abroad who are hoping to widen their audience to editors unable to travel or, more likely, for designers looking for a new way to build hype around their in-between collections like resort and pre-fall, which are incredibly important retail seasons. That does, however, add more than a few new "appointments" to the average editor's calendar.
UPDATE: The folks at KCD have clarified that, while shows on digitalfashionshows.com will commence at a specific time, they will actually be available for viewing at least throught any given season -- though only for those with an invitation to view it. That certainly makes a huge difference in terms of easing up on calendar restrictions.