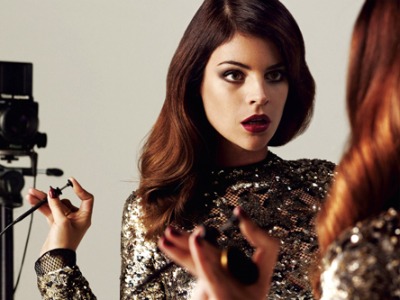 In the latest issue of V Magazine, Julia Restoin Roitfeld interviews designer Tom Ford on his return to women's fashion, which he noted "needs to be more fun."
The issue is hitting stands mere weeks after Roitfeld's mother, Carine, resigned her post as editor-in-chief of French Vogue, which will no doubt bring an added dose of spotlight to any editorial projects the younger Roitfeld takes on. What's more, this particular story brings Julia back together with Ford, for whom she served as model and muse for his "Black Orchid" perfume in 2006, much as her mother, Carine once served as Ford's muse when he was designing for Gucci. All in all, it's a dizzying amount of Roitfeld-Ford connections, but the photos of Julia's "self-portraits" in the designer's new collection are rather stunning.
In the interview, Ford reiterated that he hadn't wanted to come back to designing for women until he felt he "had something new to say" -- something he's made clear in interviews before, as well as his desire to concentrate on special clothing for customers, as opposed to bending to the whims of the retail cycle.
"I feel fashion has become too serious and that the actual customer's needs have not really been addressed," says Ford. "Fashion needs to make one happy. It is a luxury and should enhance one's quality of life."