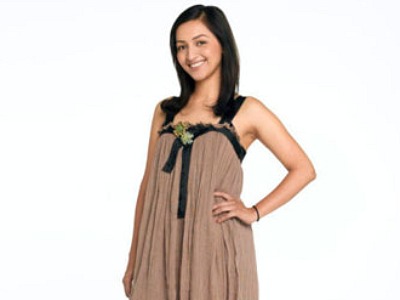 Last night's episode of "The Fashion Show" dissolved the usual houses and broke the cast into designer couples -- appropriate, considering this week's wedding-themed challenge. After pulling matching engagement rings from a bag, couples were divided into Jeffrey and Dominique, Cesar and Eduardo, and Calvin and Cindy (with Cindy demanding "why me!?" on more than one occasion).

To keep things more interesting than poufy white frocks, designers were asked to collaborate with gay and lesbian couples on their dream wedding garb. Cesar and Eduardo, the most experienced designers of the group, claimed to have the "powerhouse" advantage, and worked with a lesbian couple on a dandy-inspired suit and mustard yellow bridal gown. Jeffrey and Dominique were grinning from ear to ear while designing for their lovebirds, who asked for simple, beach-appropriate ensembles. Calvin and Cindy, who were assigned the only male couple, struggled from the start, with Cindy claiming never to have worked in menswear and Calvin refusing to honor the client's request for a traditional Korean gown. "I won't do it! You'll look like a costume party." The judges deemed Dominique the winner for the second week running with a clean linen wedding gown, but sent Cindy home for what Isaac Mizrahi deemed an "offensively" ill-fitting suit.
Thread NY: Cindy, where are you now?
Cindy: First of all let me begin by saying "hello" to everyone! And I also wanted to clear out that I totally support gay marriages! I am not against it!I love all my gay friends, family and supporters! Now, I am back in Los Angeles working on my new collection. Would love to be in New York, thought! But here is where my dream begun and here is where it will flourish.
What was your initial reaction upon hearing this week's wedding challenge?
My initial reaction was excitement! I love creating dresses and gowns. But when I heard the rest, I was like OHH NO, ME CINDY AYVAR WORKING WITH CALVIN! LOL! (Calvins famous line). I was hoping that my luck in the show would finally turn but unfortunately it didn't.
How did you feel about getting partnered up with Calvin again?
I was up for the challenge. Into working with him, I knew that he is very hard and difficult to work with. But his designs are actually good. And I just wanted to create something beautiful and have a great show. Once I knew that we were creating men's clothes I knew that I had not just one challenge like everyone else but two challenges.
What do you think you could have done to save your client's look?
I think knowing about what a traditional Korean wedding outfit looks like would have helped me so much and I would of gotten inspired from that. Also, if I would have stuck to my first design idea which was to create a longer jacket. But I believe everything happens for a reason so I don't dwell on the past.
Upon discovering the jacket didn't fit correctly, Calvin stepped in to re-cut the piece. Were you surprised by his helpfulness?
No, I was not surprised! He was not doing it for me he was doing it for the team. And he actually helped anyone that he was teamed up with whether it was sewing or giving fashion advice. And at the end he is not that bad of a person. He has a heart! Very deep deep inside but he does.
What do you think the judges didn't get to see from you this season?
Wow! I would say my individual and personal design style. It was very tough being in teams, everyone has such different design ideas. And from the beginning of the season it was a like a rollercoaster for me. Losing and losing! Never expected that!
What do you feel are your real strengths as a designer?
I am very passionate with my career. I love creating new ideas, I have a great eye for femininity. I know how a woman wants to feel in a dress and not show too much. I also dream about a particular design and I sketch it or keep it in my mind until I create it. I have a great memory for that. For other things I can forget very quickly.

Do you think Dominique's look deserved to win?
I was in between Jeffrey and Dom. I really wanted Jeffrey to win! I personally love linen. I actually made a collection out of linen two years back, but Jeffrey's suit was beautiful. It looked fresh, and great on the model.

And who do you think should have been eliminated?
I don't like to really look at the past, this is the way things happened and I was the one that was sent home so I am just looking forward!

What are your plans post-TFS?
I am working on my new collection. What Iman said to me at the end is something that I will never forget. I WILL KEEP THAT IN MY HEART. She has worked with the best designers and for her to take that moment to say those words was speechless. I love her! As far as my designs, Golnessa and I still work together, we will always work together. We have a crazy bond! We will show the line in the next two months. It will be a beautiful line -- the best of Goci!