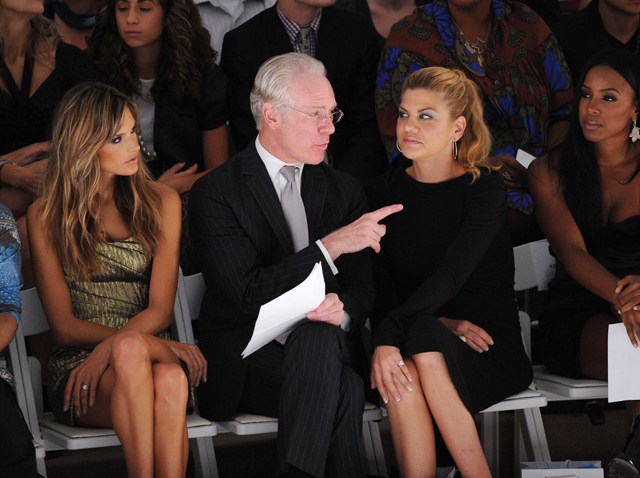 Ever since excerpts from his book, Gunn's Golden Rules: Life's Little Lessons for Making It Work, leaked onto the web earlier this summer, we've all known what kind of brutal honesty Tim Gunn's capable of. But rather than villainizing him, Gunn's tales of Anna Wintour being carried down a set of stairs by her bodyguards following a fashion show (famously monikered "Stairgate,"), Isaac Mizrahi berating a security guard for wearing brown and other fouls in the fashion industry, only made us love the Project Runway mentor all the more. On the whole, his observations are astute, thoughtful, and above all, true (who better to call the fashion industry out for its often-absurd behavior, right?).
But the sounding-off and character blasts haven't stopped with the book. Lately Tim Gunn's rather vocal criticisms of everyone from Taylor Momsen to White House party-crashers the Salahis (whom he dubbed "sociopaths" on Access Hollywood) to Lady Gaga, and now his own show, have former fans wondering if he's taken this new role of his too far.
In a 12-minute rant which he posted on his Facebook page in the form of a Project Runway recap video, Gunn spouted off on the episode's Jackie O-inspired challenge, his dissatisfaction with its concept and how it was executed, and even the judges, whose chosen winner he ultimately stood behind: "Judges, for that decision, I salute you. But for everything else, get your own straitjacket. Truly," he ended. Ouch.
The video's since been removed—his own decision, insists Gunn, not the show's—suggesting that perhaps he's not entirely unhinged after all. "I don't want to hurt anyone, and at the same time I want to be able to talk matter-of-factly," he told the NY Post.

Still, this leaves us a little unsure of what to make of all his outspokeness of late. Has Mr. Gunn turned grumpy on us, or are this polite and thoughtful gentleman's scathing criticisms a sign that the fashion industry—and the entertainment world at large—is in need of a major spanking?