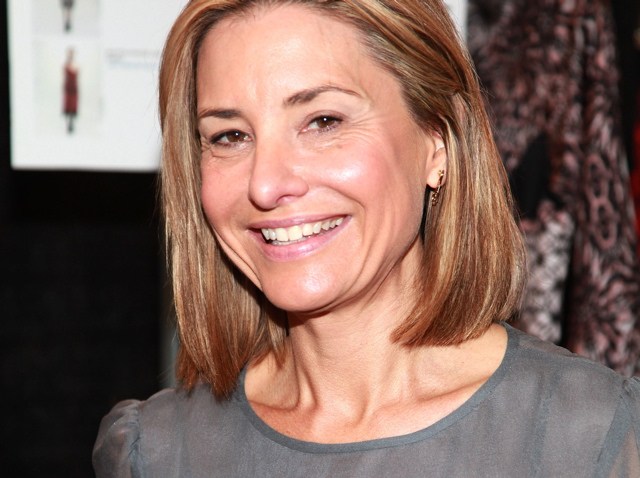 We've always been fans of Amy Smilovic's easy printed sundresses and playful separates for her brand, Tibi. Recently, the collection has evolved into sleek new shapes, cool structured jackets and gorgeously tailored trousers.
We caught up with the designer to learn how her always-charming aesthetic has developed into a decidedly modern iteration.
You've been designing for over a decade now. What are some of the most important lessons you've learned after ten years in the business?
I guess this sounds a bit cliché, but you can't let yourself be easily influenced. Time and time again, I've learned that my gut feeling is generally the right one and that I need to go with it. That being said, another important lesson is to surround yourself and hire people who you would completely trust with your vision. There's a point where you can no longer make every decision, and having the right people in place to execute your dream is invaluable. Lastly, always around runway time, there's this little voice in my head chanting "karma, karma." Be nice to people; You never know who you'll need to ask for a favor.

Prints have been a hallmark of your work for years, but recently, we've noticed a shift in emphasis from print-driven dresses to explorations of structure and shape. Is this deliberate?
Recent changes to the collection are a deliberate design decision. We will never forgo prints -- they drive so much of our business and speak to the origins of our brand -- however, we are exploring new silhouettes and fabrications. We're reaching a customer that is more sportswear-focused.
Who is the Tibi woman and how has she changed, or grown up over the years?
The Tibi woman is one who loves clothing, but looks for pieces that are uncomplicated, so her look is really effortless. We have these amazing pockets of fans everywhere, so the best part is seeing how each group interprets the line, and it is truly different everywhere. Our Japanese fan is so different than our UK girl or a New Yorker. Over the years, her look has evolved of course just as our brand has, but words that will always describe her are cool, feminine, and sophisticated.
Your color palettes are dazzling. How do you begin putting them together?
Color inspiration for me generally spurs from a painting, film or destination. One season for Fall it was the rich colors of Russia -- moody blues, purples and silvers. This past spring, the color palette was inspired by a film, "Leave Her to Heaven," starring Gene Tierney. The wardrobe selection for each of the film's settings flowed and felt right and refreshing for Spring. It comes from all over, the design team starts with so many ideas and then narrows them down to what we absolutely love and will translate for our customer.
What are some of your favorite color combinations for fall?
I love the punches of neon that we're seeing all over with neutrals like nude or oatmeal, black and white, but in creative ways -- a two-toned jumpsuit or extra-full, mid-length printed skirt, and forest-y greens with grays and creams.