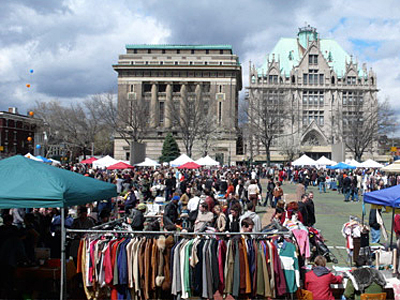 Starting this weekend, the beloved Brooklyn Flea moves back to its spacious outdoor digs on Lafayette on Saturdays, extending its One Hanson stay on Saturdays and debuting new food vendors on Sundays.
As much as we've been impressed by the Flea's decadent new home at the old Williamsburg Savings Bank at One Hanson Place, the market's original outdoor home on Lafayette Avenue remains our favorite, so it's pretty brilliant that we'll be able to enjoy the best of both worlds all spring and summer.
On Saturdays, the Flea will now be outdoors at its old familiar location -- in Fort Greene's Lafayette Avenue (between Clermont and Vanderbilt). Then on Sundays, you'll find Flea vendors back at the gorgeous One Hanson space, though the organizers have added a new element for spring in moving all of the food vendors outside in the building's back parking lot (and out of the downstairs bank vault space). To seal the deal, there are new food vendors being added this season -- bringing the tally to a whopping 25 -- along with outdoor seating and music.
The Brooklyn Flea is open 10AM-5PM on Saturdays and Sundays, at 176 Lafayette Avenue and One Hanson Place, respectively.