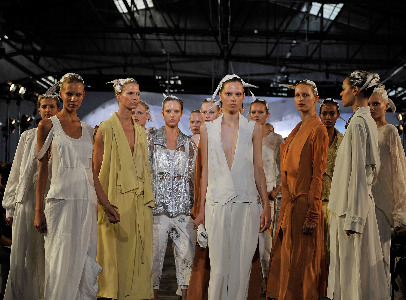 On Friday, Alexander Wang doled out pineapple buns and tees to screaming crowds at The Ace Hotel.

On Saturday, Wang's runway show -- featuring diaphanous whites, peaches, mints, and their metallic variations -- gave further proof that the grunge-loving designer has a soft spot for spring.

The show's wow factor came by way of its prettiness. There wasn't a stitch of black in the entire collection. And? There were patterns. The first one's the label has ever designed in-house. Not only that, the doodles were done by staff and interns.

A few of the highlights: A bias-cut, caftan-esque washed silk dress, color-flecked track jackets and short pants, and drop-waist, vest-and-trouser sets that -- though arguably modern gamine -- were all woman.

Appropriately, Wang celebrated in style with a Meatpacking District, carnival-themed after party on under The High Line on 10th Avenue. There was a carousel. There were video games. And -- expectedly -- lots of love for the ring-leading designer all the excitement.