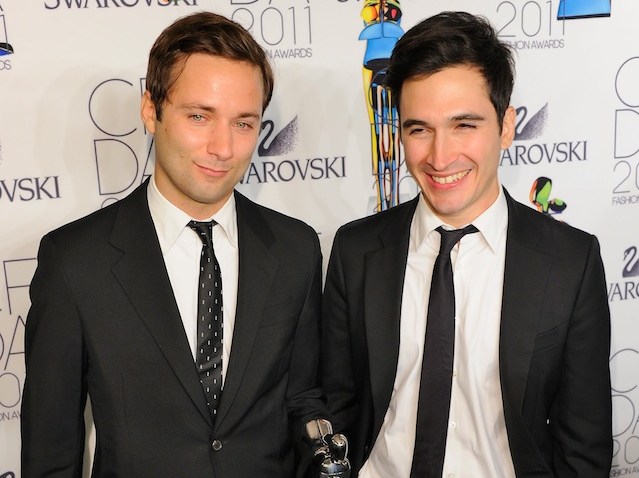 After a year of negotiations and numerous media reports, a group of 20 investors led by Theory founder and co-CEO Andrew Rosen has teamed with the designers behind It-label Proenza Schouler to embark on a plan for growth.
WWD confirmed the new investment arrangement, in which designers Jack McCollough and Lazaro Hernandez and Rosen's band of 20 investors split 47.5 percent of the company, with previous minority stakeholder Valentino Fashion Group retaining a five-percent "vote of confidence" share in the brand.
An inside source told the daily the group paid somewhere between $10-$20 million, and assumed debt for the label, which has been showing growth since VFG invested $3.7 million for a 45-percent share back in 2007. The source also implied McCollough and Hernandez opted for greater control over more money in the deal, which bodes well for diehard Proenza Schouler fans as the company faces a new chapter in its development.
"We are thankful to VFG for giving us a start, and allowing us to get where we are today," said McCollough, Hernandez and Cook in a joint statement. "There's so much we'd like to accomplish and have found the perfect complement in John and Andrew to help us realize our dreams."

According to the report, Rosen, along with fellow investor John Howard, released a statement touting Proenza Schouler as "the future of American luxury," with insiders predicting expanded apparel offerings—including denim—and a continuation of the designers' increasingly successful foray into handbags, shoes and costume jewelry; as well as a ramped-up e-commerce presence.
The hefty investment comes on the heels of Proenza Schouler's second CFDA Award for womenswear design, and Rosen's recent impressive work in re-vamping Helmut Lang and bringing on Olivier Theyskens for Theory.