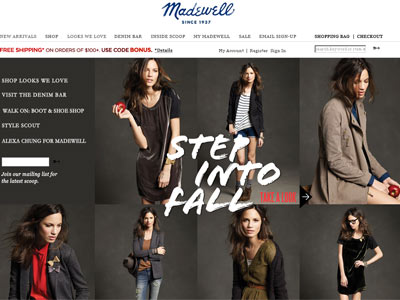 Bringing sartorial satisfaction one click closer to your doorstep, here's a round up of some of our favorite new additions to the world e-commerce (and ones to look out for).
Though he's been in the business for 10 years, NYC-based Gary Graham finally put his signature layerables—fitted jackets, slouchy knits, and beautifully-draped dresses in lush, tactile fabrics like silk georgette, jersey, and even tapestry—up online. Better late than never, we say.
Tibi's launched e-commerce and a re-branded website, featuring designer Amy Smilovic's signature splashy prints and feminine frocks as well as her personal musings on style and inspiration via a daily blog.
Characterized by its cool, understated designs—think minimalist, impeccably tailored staple separates—conceived by the world's hippest twinset Mary-Kate and Ashley Olsen, the Row's new online shop will have you considering a splurge between leather leggings, or an oversized cashmere sweater to cozy up in this fall.
Having built a solid reputation as J. Crew's sister store with just a few locations nationwide, Madewell finally delighted their diehard followers with an online shop. Now anyone anywhere can get in on its awesome assortment of easy floral dresses, signature denim, and upcoming collaborative collections with Alexa Chung and Wanderlust.
The popular British e-tailer ASOS finally created a US-specific site last month. Given the e-tailer's unparalleled roster of designers, from the big guns (Chloe, McQueen, YSL, Miu Miu, etc) to indie favorites (Acne, Karen Walker, Wayne, Preen and so many more), this is the best British invasion since the Beatles.
Prada, too, recently expanded its e-commerce to American customers, now offering the house's handbags and sunglasses to pair with its Fall 2010 collection of decidely ladylike looks a la Dolce Vita.
MARC JACOBS
Marc Jacobs has a highly-anticipated web debut going down September 15. According to the designer's always candid business partner, Robert Duffy, shoppers can expect exclusive pieces unavailable anywhere else, in addition to standard MJ favorites.
BARNEYS
We also heard from a marketing insider that Barneys is in the midst of a website overhaul. The current site is indeed a bit clunky, but the new interface promises a more streamlined shopping experience.