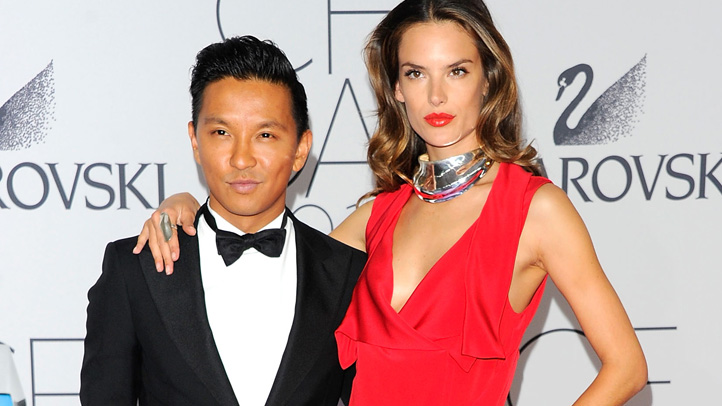 Most know Prabal Gurung for his beautifully draped dresses and explosive color palettes, but the designer is working on a second (and equally impressive) gig as a humanitarian.
Gurung's new foundation, Shikshya, works to provide education to young girls in his native Nepal. We caught up with the designer to hear how the concept evolved, how it benefits its subjects, and his personal feelings about giving back to his country.
What does the name "Shikshya" mean?
"Shikshya" means education. The imparting of knowledge, not necessarily through books or in a classroom scenario, but it could be the transfer of wisdom gained through your life's experiences. To me, it also means enlightenment -- the possibility of a new and better world through education.

Can you describe the specific moment or experience that inspired you to found the charity?
I have always felt blessed that my parents were able to provide me with a proper education. They created an environment that was conducive to being creative, independent, allowed for original thoughts and ideas and gave me the freedom to dream bigger. I have embraced the attention that has come with my work here in New York because it has enabled me to shed light on global issues and in particular, those back home in Nepal. After launching in '09, landing the cover of WWD, and having brand ambassadors including Oprah Winfrey, Demi Moore, and the First Lady amongst others, I was able to parlay this passion of mine into raising awareness for bigger causes.

Can you tell us in your own words why women are often under-educated in Nepal?
Nepal is still primarily a patriarchal society. There are gender biases right from birth. Since the majority of the rural population is subsistence farmers, the daughters are kept back either to look after their younger siblings, or help with the household chores while it is the son who is sent to school.
Although that is slowly changing in the lower grades, as they grow older and as higher education becomes more expensive, the girl child invariably has to drop out of school to compensate for her male sibling's education expenses. Even in the urban scenario, almost every household has domestic help of school-age children. The lives of the privileged continue to remain so often at the cost of these children's future. These children working as domestic help share their earnings, however meager, with the rest of their family still living in the village. Aware of all the above challenges and firmly believing that it is only through education that disparities can end, we thought of starting the foundation to fund a girl child's education. Here, we are not talking just about her tuition fees, but assuring that she grows up in an environment conducive to her holistic growth -- including addressing her social and emotional needs as well and really seeing her growth through adulthood.

How are funds from the foundation distributed?
For our first initiative, we decided to concentrate on the educational needs of girl children. For this purpose, the board members visited several organizations to find future partners to help with this endeavor. We decided on a center that supports children of prison inmates, mostly children of women prisoners who otherwise would have no option but to continue living in the prison with their mothers.
After assessing the organization's credibility through their financial records, spending enough time with the children at the center as well as visiting the school that the children attend, we made the payment for their educational needs. Apart from occasional visits to the center, which we feel is important especially to ensure their overall well-being, the center provides us with monthly, quarterly and yearly progress reports. The distribution of funds will entail first the evaluation of the recipient of the fund, monitoring of their work, reporting back to the donors and at the same time, treat our grantees as valued partners, and treat the ultimate beneficiaries of our work with respect. So, initially it is through the donated seed money and the amount that we have generated among the board members that we were have been able to really put our initiatives into action. The foundation will continue to support these children through their higher education.
How does it feel knowing you're able to give this back to your country?
It's incredibly humbling. To be able to do what I love -- design -- and turn that passion into meaningfully changing lives is extremely gratifying. We believe that these children we are supporting will be shapers of the nation's destiny, instrumental in turning our society into one which is just, equitable, secular, accountable, progressive and prosperous. Now I feel that my existence has a bigger meaning than before and it validates every decision I have made to date.