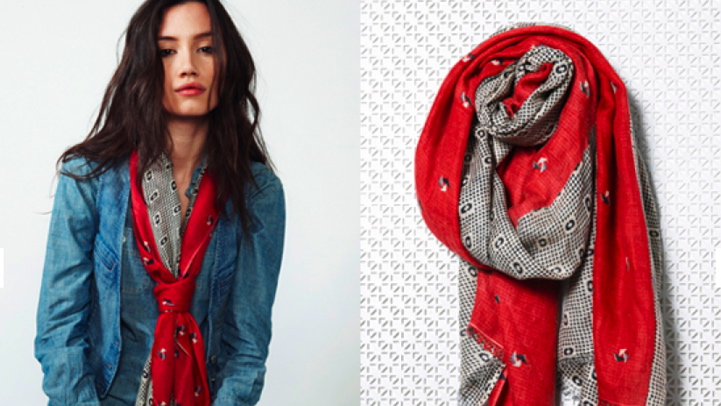 Designers Farah Malik and Dana Arbib of A Peace Treaty launched their collection of luxe scarves and jewelry with the intent to provide sustainable work and wages to craftspeople in war-torn regions. Here, the designers open up about the origins of their brand, and the difference they've been able to make in the lives of their artisans.
How did the initial concept for A Peace Treaty come about?

FM: A Peace Treaty refers to building bridges to other cultures and places. A lot of the places we work in are burdened with socio-political conflict and so the beautiful traditions and artisans and art from these places go unnoticed. APT began four years ago when we met and realized that, at that time, there was a real lack of artisan made accessories in the luxury fashion industry ... APT's aim was also to drive business and trade to small family businesses and artisan producers of textiles and jewelry that had a lost a lot of business as a result of political volatility in their regions. We understood that everyone was still shopping even with the economic downturn, so we wanted to conceptualize a way to make their purchasing power also create some structural change -- perhaps to have people start thinking about how things are produced and think about the stories behind the pieces that they purchased.

We've set up projects for artisans and rejuvenated at-risk businesses in many towns and villages. Our approach is very much a community empowerment one—elevating traditional handicrafting skills; valorizing artisans that have been overlooked.

DA: We both come from a line of social justice and humanitarian work, so after working for other people, we became eager to do "things on our own terms" and we had to make sure that any projects we did would initiate social change. A Peace Treaty was also conceptualized around our own traditions. We simply wanted to make a statement about how we are a Jew and a Muslim working together, transcending political differences and focusing on beautiful art. With the tensions in the Middle East, this is an arrangement that is rarely seen.

How do you go about finding the craftspeople you work with?

FM: We have projects running in seven countries now including Pakistan, Afghanistan, Nepal, Bolivia, Peru, Turkey and India. Next up is Uruguay. Within some of these countries we travel to completely distinct regions and cities, villages and towns bringing work to unemployed farmers, slum-kids and disabled and widowed women. These are all people who have been so disadvantaged that they are unable to gain employment.
...In each of our projects, we're helping resuscitate generations-old, family-run crafts businesses at risk of extinction due to the pressures of global influences and financial necessities. We've personally trekked to the most remote villages to discover incredibly skilled yet vastly underemployed craftspeople.

DA: The artisans we work with are always excited yet a little intimidated by the challenge of having to do things a little differently. When, at the end of a project, we show them work that was made by their hands in a glossy magazine, they are ultimately floored.

Describe your design process: Do you collaborate with the local artisans to come up with designs season to season?

DA: The production process is collaborative and experimental to some degree, however the designs do mostly come from us and are based on months of research -- they happen in our studio in New York. Each season, we first choose a hand-crafting technique such as hand-blockprinting, hand-weaving, embroidery or hand-knitting, and design a scarf collection that would be made in that technique. For jewelry, we research ancient civilizations, amulets, talismans, old ritual emblems, and matriarchal leaders who had huge jewelry collections. We then research the countries that have a history with this particular technique. We find a region, such as Afghanistan for embroidery, and then use their own cultural design aesthetic for inspiration.

FM: Each season we draw inspiration from an old-world -- and often forgotten -- technique of textile-making or jewelry-making. For instance, we have trekked to Bolivia and Peru to work with Aymarra and Quechua indigenous artisans on knitting our collections; we have worked with a widowed-women's organization -- Afghan Hands -- to make exquisitely embroidered pieces; we have bought wooden looms for artisans in Pakistan who had to give up a family tradition because of lack of demand. In Nepal, India, and Pakistan, we work with hand-weavers, silk-screeners and block-printers in addition to bringing dip-dyeing, sewing and printing work to widowed or disabled women so they can work out of their own homes. We have also trained street kids (above the age of 16) to work in the workshop of the last remaining block-printer in Pakistan. In Turkey and in the Rajasthan desert, we have found old tribal families to make our jewelry often using techniques and materials that have long been cast aside. We resuscitated camel bone carving for our THAR jewelry collection, for instance.

How do you think the media's portrayal of countries like Afghanistan, Pakistan and Israel has affected their local crafting businesses?

FM: It is no secret that political turmoil, natural disasters, and war almost completely destroy arts and culture. Even if the media here makes us turn our backs on supporting nations abroad, our aim is to work to uplift the local appreciation there for centuries-old craft and design. If local markets can revive and create sustainable jobs for artisans again, then even that is enough to create larger economic change. Its kind of shocking how many countries' markets sell the exact same product made in a factory somewhere. We hope old world traditional crafts won't start to go extinct because of this!
What's the most satisfying thing about working on A Peace Treaty for each of you?
DA: The process for each of our collections to be completed is both time-consuming and unique -- it is really satisfying when the final pieces end up in 150 shops around the world. I also come from a background in product design, so getting to research in libraries and archives for often forgotten and rare textiles and jewelry techniques is fascinating for me. I love seeing luxurious handmade textiles that are one of a kind and then being challenged on how to recreate that feeling for a larger audience. This really drives me.

FM: The most satisfying thing for me is the way in which we have been able to create change in people's lives. Women are able to have incomes so that their children can go to school rather than have to work to support the family. Women are also able to be less dependent on the men in their lives. And we've also helped artisans to feel a newfound appreciation and belief in their own art and skill. On the ground, we hope to empower and encourage artisans to go back to doing things the "old way." For instance, hand-made textiles are becoming harder and harder to find as many countries are becoming more and more industrialized ... While there is a long way to go, I'm content that the fashion industry here is beginning to open its eyes a little. It's not okay to be able to purchase cheap, fast fashion at the expense of someone else. If we can change consumer habits bit by bit, there will be an end to slave labor soon enough.