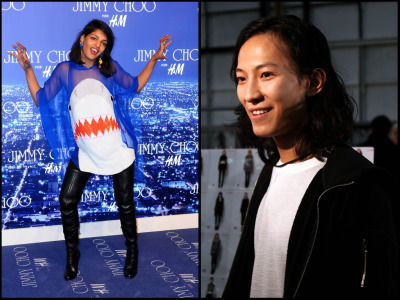 As the co-sponsor to Monday night's Met Costume Institute Gala, the Gap will be dressing celebrity attendees for the high-fashion event, ableit with the help of designer friends (and red carpet regulars) Alexander Wang, Sophie Theallet, Rodarte and Thakoon. After the ball, the gowns will be auctioned off to benefit the Costume Institute, and the rest of us will get the chance to snap up Costume Institute-themed T-shirts.
The roster of eveningwear collaborators for this year's Met Ball reads like the CFDA honor roll, with Alexander Wang dressing M.I.A. (maybe our most anticipated creation of the night) and Zoe Kravitz, Sophie Theallet outfitting Jessica Alba and Vera Farmiga, loyal fan Kirsten Dunst and Jamie Bochert wearing Rodarte, and Thakoon paired up with Kerry Washington and Riley Keough.
Following the event, the eight dresses will go up for sale during Gap's silent auction May 4-31, during which time they'll be on display at Gap's Fifth Avenue pop-up shop, along with T-shirts sporting themes from the "American Woman" exhibit kicking off at the museum. Proceeds on all the fashion sales will go right back to fund the Met's Costume Institute.