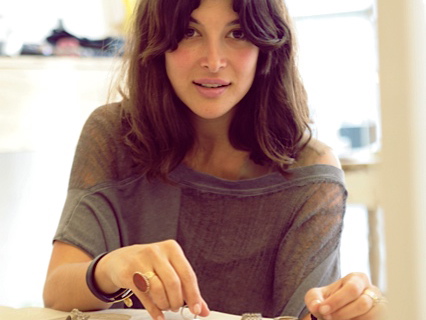 Stylist and boutique owner Maryam Nassir Zadeh has developed her brand around unusual finds and tough-to-find labels, making her a very busy woman during the various February and March fashion weeks. Naturally, we wanted to see how she was recovering after the month-long excursion of presentations and parties. First on her list: logging some major couch-cuddle time with her husband and daughter.
What's the first thing you did when you got back to NYC?
The first thing I did when I got back to New York was grab my daughter and husband in my arms and cuddle for the next hour!
Do you have any post-Fashion Week relaxation rituals?
Honestly, no post-relaxation has happened as of yet, but my plans are to hit Great Jones Spa once all my orders are submitted at the end of this week!
What was the most surprising thing you saw in Paris this season?
The most surprising thing I saw was definitely the most recent direction for the brand, Meadham Kirchhoff, [which showed] a combination of Spanish, Hungarian and Victorian Costume.
What's the biggest difference between Paris and New York?
The biggest difference between Paris and New York is the pace. Life is in slow motion there.
What will you differently or better during your trip next year?
Next year I would do many things differently! First, I would travel with my daughter and husband, and take my assitant Sonia with me to Paris. I would also go a few days earlier to rest up before all the action. Last, I would take a few nights to rest and get work done while I was there. This trip was very productive, but all action and no down time.