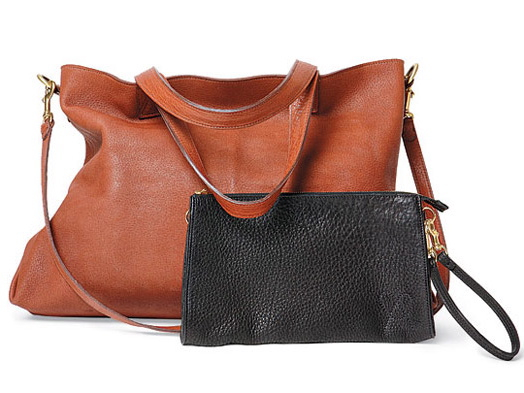 Mark Firth and Andrew Tarlow, owners of Williamsburg's beloved Marlow & Sons, have long specialized in local, grass-fed meat, strong Bloody Marys, and freshly shucked oysters. To further their mission, Firth and Tarlow opened a butcher shop next door, Marlow & Daughters. Now, Andrew Tarlow's wife, Kate Huling, has taken the group's "waste not, want not" credo to a whole new level, using the skins of house-butchered livestock to create luxe handbags and accessories.
The bags' simple, uncomplicated designs suit the fuss-free aesthetic that Firth and Tarlow cultivate in all of their restaurants (Diner, Marlow & Sons, and Roman's in Fort Greene.) A reasonably low price-point (bags start at $40 and range to $350 for a large tote) along with their locavore, Billy-burg street cred, will guarantee an audience among the neighborhood's eco-chic residents.
In fact, in transitioning from sustainable food to sustainable fashion, the Marlow dudes may have struck upon a brand new portmanteau: "Loca-nista."
Available at Marlow & Sons (81 Broadway, Brooklyn) and Marlow & Daughters (95 Broadway, Brooklyn). For information call (718) 384-1441. Website coming soon.

Editor Note: This article was updated after its initial publication.