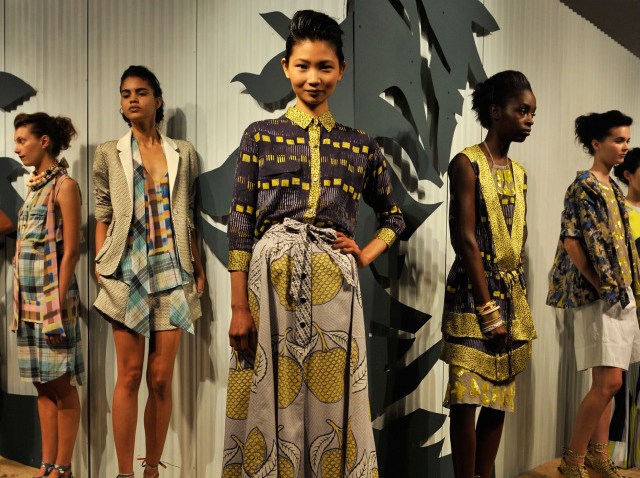 Suno is a label blessed with seriously good timing: The designers' focus on incredibly sourced African textiles managed to hit a moment in the life of the fashion culture where original prints (and print mixing) had hit a popularity peak, and they rode the crest of the wave through spring and fall 2010, piling up editorials (and a recently spotted collaboration at Opening Ceremony on woven belts).

Even the designers appreciated that they'd have to advance the label's vision a bit further to keep things moving apace, and Spring 2011 more than rose to the challenge.

Fans of the label's signature prints may rest assured that the same dazzling, color-courageous pieces you've grown to love will linger through next season -- striped florals, petal prints, and one wonderfully youthful fruit print -- but the labels has used some clever styling (with some tips perhaps borrowed from the J.Crew standard) to mix in some romantic, upscale pieces: A gold deep V-neck dress was worn over a colorful plaid button down, and a long white ruffled dress featured a white-on-white pattern of delicate polka dots.

The accessories in the presentation were particularly note-worthy: Loeffler Randall supplied the eye-catching printed platforms, while Lizzie Fortunado created chunky beaded chokers.

The presentation itself felt more like a party than a fashion event: A bartender in the back served "tropical margaritas" to a mix of fashion insiders and friends, while some of the guest talents like the Fortunado sisters even posed for pictures in front of the models wearing their designs. If this marks the new course Suno is charting, we'd bet they can look forward to several more successful buying seasons.