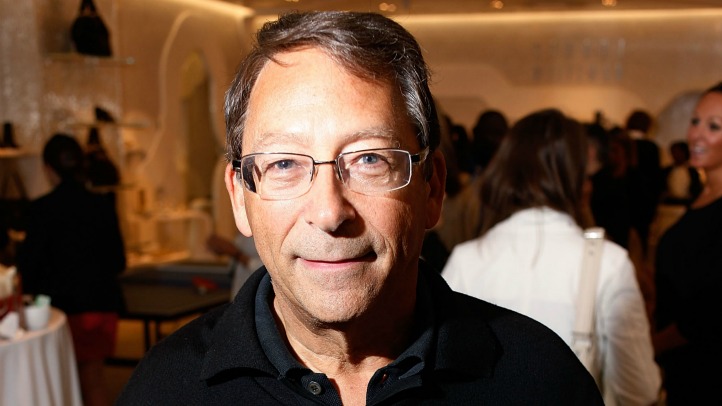 Stuart Weitzman rose to fame as a shoe designer after taking over "Seymour Shoes", the company his father founded in the 1950s. Since then, he has become known for the pair of million-dollar shoes he creates for the Oscars each year, a celebrity fan base that includes Angelina Jolie, and his adventurous use of materials like Lucite and cork. Jones Apparel bought a majority stake in the company in 2010, but Weitzman has stayed on in a role that is largely unchanged. We talked with shoe guru about how the recession has changed shoppers, the "Kate Middleton effect," and his new Fifth Avenue store.
Women are so attached to your shoes. What kinds of stories do you hear from your customers about their collections?
One of my favorite stories was from a woman who wrote me from New Orleans after Katrina. She had raised her boat after the storm, and was ecstatic that her seven pairs of Stuart Weitzman heels, which had been perfectly sealed, had not been water logged. I hear from brides all of the time, threatening me that they need to find a certain pair of my shoes, or they aren't going to get married. Of course I help them. Women really love their shoes. [Laughing] Probably a little too much.
Some shoe designers don't like their footwear to be associated with comfort. What are your thoughts on that?
One of the most important things that happened with women's liberation was when the girdle was thrown away. And all of the effects from that. Now there is just so much choice [with shoes], which is a reflection that women want the decision, and they can't be told what to do, or to suffer for shoes that are beautiful. It's one of the first things I hear from women about my shoes, "Gee, these are so comfortable." Even when I'm at a wedding, I'll hear from a woman that she is surprised she has been able to wear my shoes all night. I think comfort is crucial.
Where do you think women are right now in terms of the kind of heels that they like?
It's all about a woman's personality. Flats, high heels. There isn't a question that high heels are in fashion right now, and mid-heels aren't so much, but there are just so many options.
What does it take right now for a woman to buy a pair of shoes?
Women need to see something that's different from what they have [already]. This is probably why I don't make men's shoes -- because they don't think like that. Half of the women who walk into my store are looking to replace a pair of shoes, and the other half are looking to buy a black pump and end up walking out with something completely different that they just had to have.
What Fall 2011 shoes have sold well?
Ankle boots, flat boots, man-ish kinds of loafers -- but feminized, with a tassel. Also, we have seen increases in spending on evening shoes.
Kate Middleton is a big fan of yours. Have you experienced the "Kate Middleton effect" like other retailers?
She has a pair of our Zipkin suede boots. They ended up in millions of papers -- because of her, not because of the boots. I really can't tell you we sold any more of them than we would have if she hadn't worn them. It was already a good selling item. There are occasions when a celebrity has a worn a pair of our shoes, and sales have skyrocketed, but it is usually more of a fashion shoe.
What's an example of when that's happened?
Jennifer Aniston has a pair of our espadrilles that she wore day in and day out during the past year. The paparazzi follow her around all day long. We noticed that she would change to a skirt, or jeans, but she would be wearing the espadrilles in all of these paparazzi photos. That influenced sales for sure.
Do you think the recession has changed shoppers at all?
I actually think it's helped industries like shoes, which have long been considered second fiddle in an outfit. Now women are using accessories -- shoes, a great bag, some jewelry -- to feel fresh. Accessories have gotten a boost from women who are looking to cut back spending on clothing.
Tell us about your newly opened New York City Fifth Avenue store.
It's always seemed like a far-fetched dream to have a store on Fifth Avenue. It's really exciting. We are getting a new customer in the store, a customer that might not have found us in our other stores. And a lot of tourists.
You seem to be in expansion mode right now with a string of store openings. Why is the time right?
Our collections are getting bigger and bigger. We aren't just the go-to for evening and party shoes anymore. Our flat business is doing really well. Our boot business is really important to us. Retail is where you have the opportunity to present your collection. When you're in a multifaceted retailer like Saks Fifth Avenue, they are only able to pick so much from your collection. Our stores are where we get to show everything.
What is Spring 2012 going to look like?
It's going to be a really colorful season. I feel like the shoe industry is single-handedly trying to lift people's spirits this spring. Don't read the paper, that's not going to do it. Don't watch the Dow, that's not going to do it. Walk into a shoe store. We are making shoes in bright colors like orange, fuchsia, turquoise, yellow. There will also be nice base colors this spring like soft blush.