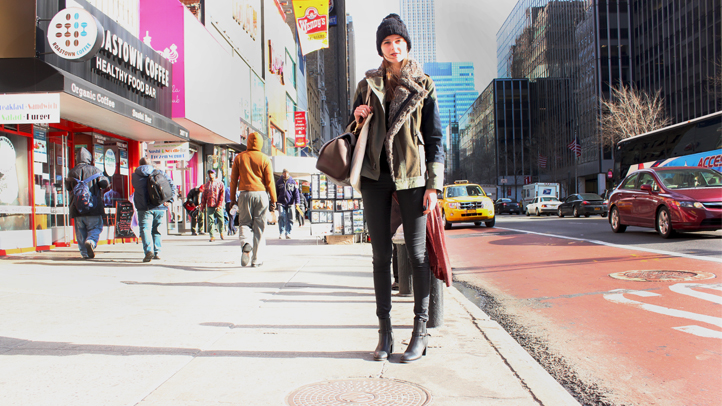 With New York Fashion Week less than a week away, it's no surprise that midtown sidewalks are crowded with tall, willowy types flitting between casting calls and fittings.
Though the typical "model off duty" uniform generally consists of a beefy biker jacket and matching leggings, St. Petersburg native Vasilisa Pavlova went for an asymmetrical, shearling-lined coat layered over a super-long cardigan.
Hometown: St. Petersburg
En Route: "To finish up castings!"
Today I'm Wearing: "Zara boots, my favorites jeans, H&M cardigan, a BCBG jacket and shearling Celine tote."
My Signature Style in Middle School: "We had to wear uniforms, so I didn't get to have one!"
If I Could Sit Front Row at Any Fashion Show, It Would Be: "I'd love to watch Alexander Wang. I've never done his show before, and it seems like a fun one!"

The Best Thing I Bought in The Last Year: "This shearling coat -- it's the best!"