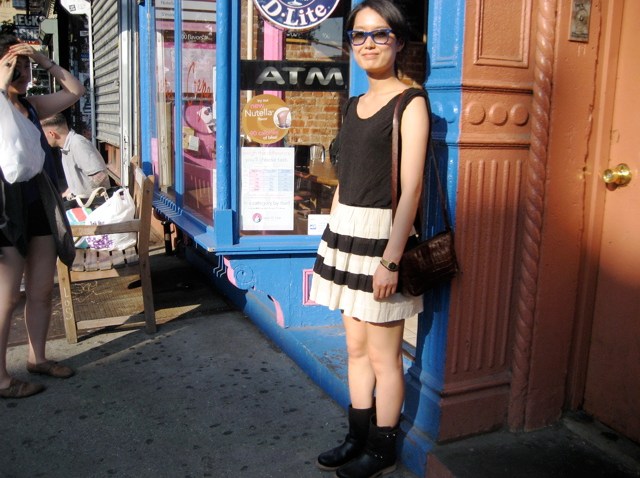 It was a steamy 95 degrees yesterday afternoon, so Min Ji's decision to linger in front of her local Tasti D Lite seemed appropriate indeed. After all, who couldn't use a little frozen yogurt after a sunburnt picnic in the park?
The quintessential sidewalk look this holiday weekend was informed by color, ankle-grazing lengths and big straw hats -- fabulous choices, all -- but we applauded her decision to go against the grain with a contrasting black and white ensemble.
Min Ji -- who recently relocated to the US to study English and fashion here in New York -- explains her sense of style "eclectic but girly," and claims she models some of her more outlandish outfits on Kirsten Dunst's vintage-inspired chic.
Her ruffled skirt and silky black top are scores from her native Seoul, while a tough pair of Rag & Bone biker boots were a more recent acquisition. A funky croc-embossed satchel handed down from her mother was a perfect vintage foil to an otherwise modern ensemble, and bright blue sunglasses added a statement-making pop of color.