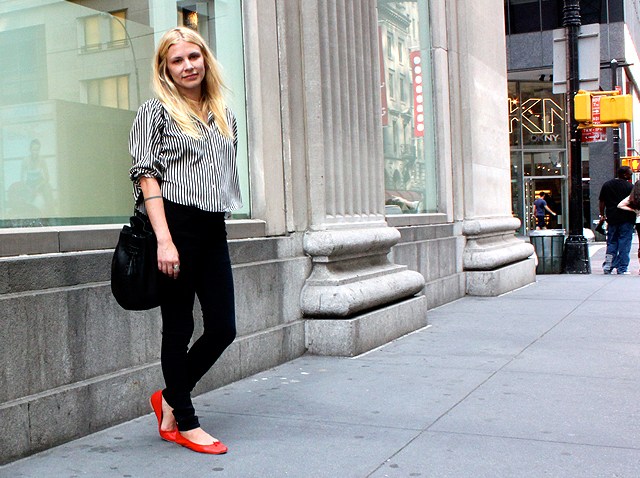 Photographer Jamie Johnson was on her way home from a shopping excursion on Madison Avenue when we insisted to snap a photo of her effortlessly hip summer ensemble.
Equal parts Uptown prep and Kate Moss cool, Johnson accessorized an oversized striped blouse with a few well-chosen bangles and subtle black tattoos.
Spotted On: The corner of 60th and Madison Avenue.
Today I'm Wearing: "Red Repetto flats, Topshop high-waisted jeans, a Reformation striped blouse, Wendy Nichol bucket bag and Anita Ko jewelry."
Hometown: "New York City born and raised -- specifically the Upper East Side, a.k.a. 'the most hated neighborhood in New York.'"
On My Way: "Back home for the day."
My Style in Three Words: "This is so funny, I was just discussing this with a friend. Let's say '70s, safari, and chic--oh no! But this outfit isn't very consistent with that."
All-Time Style Icons: "Jane Birkin and Catherine Hepburn."
Signature Look in Middle School: "Oh, very grungy. I was into Nirvana at the time. Had serious pink hair."
Best Thing I Bought This Year: "It would have to be my vintage Navajo turquoise ring, which I found in Santa Fe. But my new car might rival it."